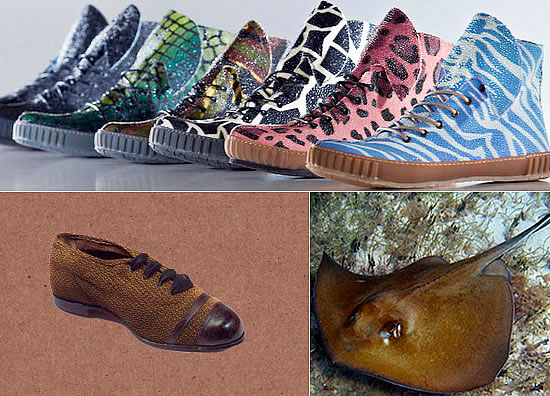 If you are an environment conscious citizen, a fashion fanatic with a penchant for all things shoes, or simply put, have enough money to burn that spending $1800 on a pair of sneakers will not hurt much, then here is an interesting news. Rayfish Footwear Inc. has come out with a ground breaking concept which applies bio-customization to..err…grow sneakers! Under the arrangement, patterning and coloration genes from existing animal species are used by Rayfish engineers to produce stingray leather. All you need to do is visit the company site and choose a combination of fish patterns. The company will then apply their one off strategy and cultivate stingrays bearing your chosen design or patterns. What you have at the end of the day is a customized sneaker like no other on this planet!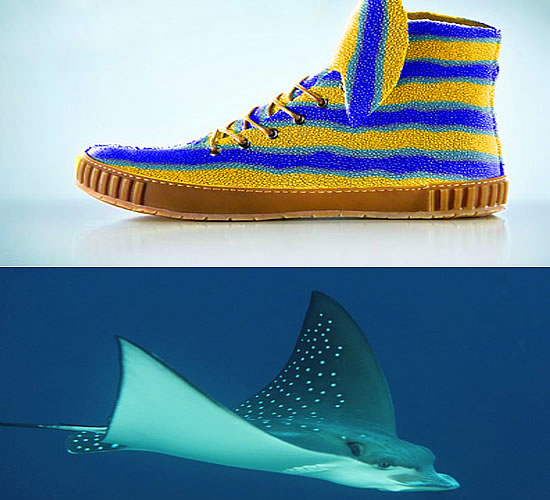 Each and every pair is unique in its own little way. So rest assured if you have spent $1,800 getting those stingray sneakers, you won't find their twin adorning somebody else's feet. And just in case you are wondering whether sneakers made of stingray leather would be able to tolerate harsh conditions on road, the manufacturers have done their bit to guarantee a sturdy piece for you. With thick laces, hand stitched details and strong soles, these items have all it takes to serve you while on the go.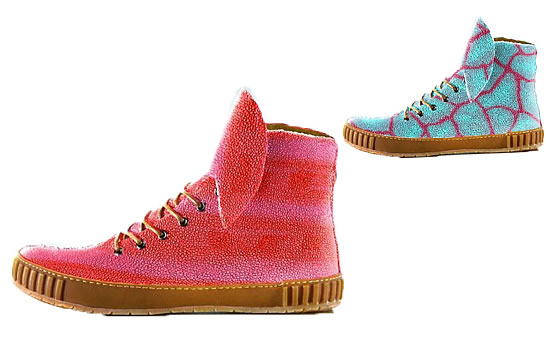 The stingrays are cultivated at Rayfish's very own aqua culture facility till they reach harvestable size. A combination of bio engineering techniques ensures that as the fish grows, the predetermined patterns become eminent on its body. Once harvested, the pack moves to Rayfish workshops at Chon Buri, Thailand, where skilled workers craft the customized shoes. Stingray hide as material for clothes has been around for quiet some time now. It is what swanky armors in ancient times would ideally be made of. Their foray into the world of footwear happened much later. While Rayfish cannot really be credited with pioneering the trend of using stingray hide for shoes, their bioengineering techniques are undoubtedly unique and exclusive.
For customers the whole process of choosing stingray shoes may appear as easy as having a piece of cake, the underlying technology took years to develop. According to Rayfish Footwear CEO Raymond Ong "I saw an opportunity for innovation while keeping true to my family's long tradition of producing stingray leather goods". Ong's idea was brought to life by a team of bio-engineers who spent years devising the right strategy. No wonder then that the latest collection of customized sneakers from the stable of Rayfish is the first bio-customized range in the world.
If you wish to become the proud owner of these stingray beauties, then there are two options available- either wait for the company to release their shoes publicly or participate in the design contest sponsored by Rayfish footwear. The sneakers are currently available only through this innovative contest running on the Rayfish official site. Each and every winner receives a pair of stingray sneakers once the fish has grown to full size. General production, however, will not begin till late 2012. All said and done, in our opinion there is but one way to describe Rayfish's latest collection- A magical blend of Thai craftsmanship and modern bio-engineering techniques.
Rayfish colorful sneakers are though not one of the most expensive shoes we have seen, including Testoni's alligator-leather shoes, but the luxurious sneaker designs from Rayfish will leave the on-lookers gasping for sure. – Bornrich