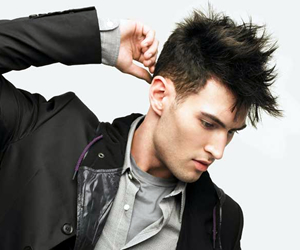 Hoping to make a difference to only those who consider their hair to be just keratin on their scalp, men's hair styles for 2012 could help not only make you stand out but could help bring about evolutionary changes in your personality.
Your hair style in 2012 must definitely be constricted by the limitations of how well it defines you. It is about more than just standing out, it is about slipping in.
Apart from being extremely wild, the more moderate men's hair styles come in the crew cut. Keep your side burns to the minimum and have a beard preferably a scruffy one for your hairline to merge into.
If your idea for a hair style is letting nature take over and grow your locks, remember you're asking for making an effort towards reconciling with the destructive forces of nature. Condition your hair and blow dry the lucks to avoid frizzy hair while making sure you're paying attention to the split ends.
Men's hair style recommendation for 2012 however flies straight to having a look for every season. While sticking to the essentials of maintaining your hair style including a regular trim and the occasional massage with oil, let the season define your hairstyle. Let your locks wild in the winters and transgress the length through spring going follicle deep with the scissors for the summers.
No men's hair style is complete without an appropriate adjunct to compliment your hair. Experiment with your styling tool. Let your imagination run wild and take your hair stylists advice on what assortment of styling wax and hair gel could compliment your hair and alter your hair style.
Men's hairstyle have little other than social and work place boundaries but then if it is a man who's got to it, he might as well do it with a hair style that brings out his element.