Summer is about to end and fall season is approaching and everyone who wants to be away from the little heat and enjoy the cold weather is looking forward to the fall season. But that's not the only reason we look forward to the fall season now or is it? Certainly not! Fall season means new trends in the fashion industry and the new fall collection is what we're really excited about. Everyone wants to look cool in the cool weather so everyone must be curious what this fall collection is all about and what is in and what is out. Just the same as you we're really excited about this year's fall collection also and will be telling you all about it. So let's start because now it is us, you and the latest fall collection which we're really excited about.
This year's fall collection has a powerful expression which is full of emotions just the same way as the season itself. The famous brands and designers really outdid themselves while playing with hats, gloves, scarves, shoes, buttons, jackets and overcoats for the fall collection. Let's start with some of the brands which we're really excited about.
1. Odin For Target: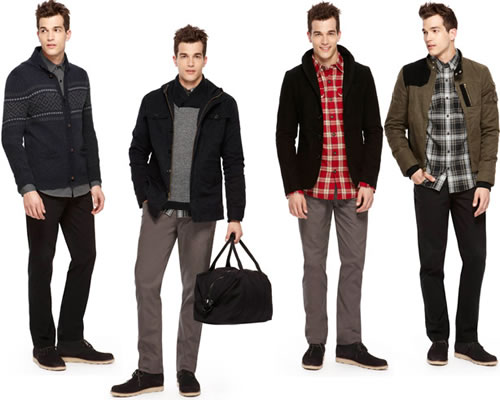 Odin, NYC's famed retailer is all set to launch their fall collection in early September in collaboration with the mega retailer, Target. It's elegant, masculine and the best part of all its cheap. Surprised! Aren't we? Because the prices of all the Target pieces are below 100$. This is the first fall collection we're really excited about. This collaborative 20 piece collection include men's jackets, tailored pants, button down shirts, knits and all of the accessories which goes along with their collection with prices ranging from 15$ to 100$. Woven, Jackets and button down shirts comes in a range of neutral palette paired with chinos while chukka boots and weekend bag go along well as accessories. The pieces in this collection which catches the most eyes are the cardigans, Moleskin Blazer and motorcycle inspired cropped jackets. Looks like everyone will be shopping for Odin-Target collaborative fall collection till they drop.
2. Jil Sander's Fall Collection: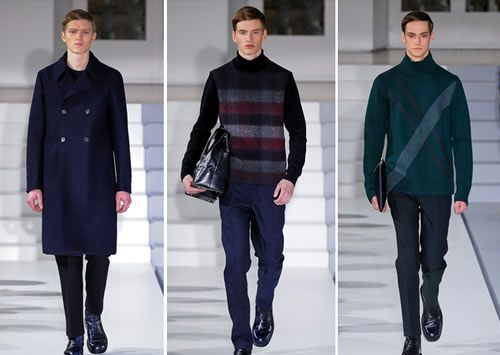 The next fall collection that we're really excited about is Jil Sander's collection. Jil Sander concentrated more on leather and black color. Raf Simons said that he wanted a cross-generational thing: the man who is a father, the man who stays a boy, in other words, masculinity that is troubled for whatever reason. The tailoring of this collection is extraordinary but all the black seems to give a sinister look swallowing all of the light.
3. Burberry Prorsum's Fall Collection: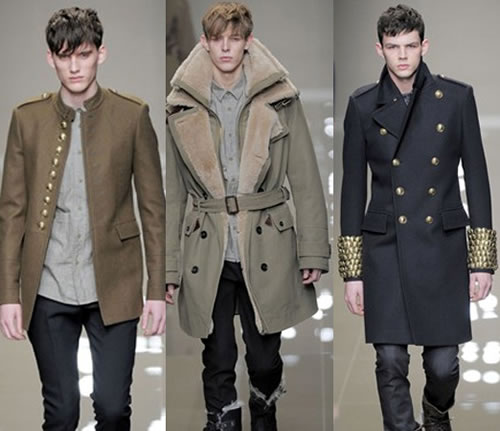 Burberry Prorsum presented with a collection which is very strong and masculine. Cardigan, bags, gloves, hats are included in their collection but the main attraction in this collection are seem to be the coats. Black and shades of grey are the colors which is mostly used but you can also see a velvet coat in the shade of green paired with velvet pants in the shade of yellow.
4. Uniqlo's Fall Collection: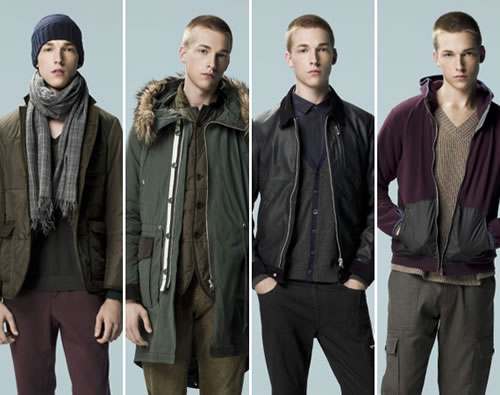 Uniqlo, the famous Japanese retailer, also came up with their fall collection with their signature color palette of warming tones against the cool colors are giving some awesome and trendy vibes. Uniqlo's 90 piece fall collection includes chinos and cashmere in all colors along with hooded jackets and down shirts while the ultra light down jackets are available in hues of gray, olive, wine and black.