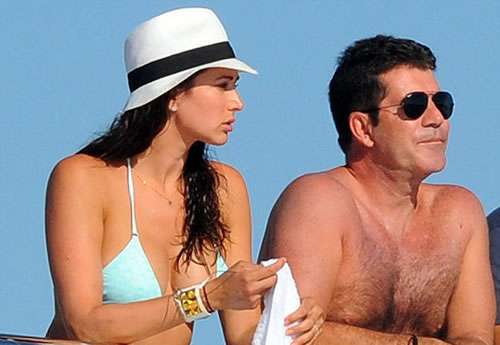 Simon Cowell has reunited with his pregnant girlfriend in the south of France. Lauren Silverman, who is approximately 12 weeks pregnant with their first child, landed in Nice Cote d'Azur airport on Wednesday (21.08.13) to meet up with the 'X Factor' boss for the first time since her divorce from Andrew Silverman was finalised last week.
A source told the MailOnline website: "Lauren is so excited. It will be the first time she has actually seen Simon in weeks, she really loves him and they can't wait to be together." Simon also flew back to the region, where he has been holidaying for the past week, on Wednesday evening after a quick trip to London to attend the world premiere of 'One Direction: This Is Us' on Tuesday night (20.08.13), where he gushed about the New York socialite, 36, who he allegedly began having an affair with four years ago.
The 53-year-old star said: "I'm proud to be a dad. It's something I hadn't thought of before, but now I know I feel good about it." He added: "Things are changing in my life right now, for the better. She [Lauren]'s a very special girl."
The Syco boss was joined at the movie's screening by his ex-fiancee Mezhgan Hussainy and ex-girlfriend Sinitta, and the 53-year-old 'So Macho' singer accompanied him back to France to spend some time with Lauren.
She tweeted on Wednesday: "Bye bye LonDon YoU are beautiful!!!" – Contactmusic