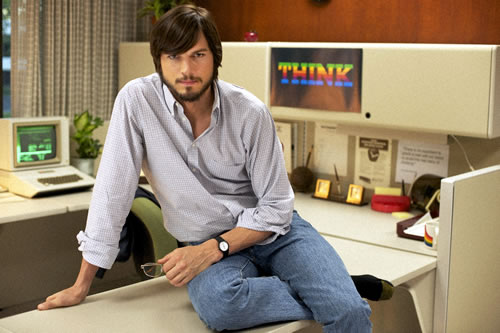 Ashton Kutcher got so into the character of Steve Jobs – eating like him, walking like him and becoming, in his words, "volatile" – that it left him hospitalized while filming "Jobs," his movie about the Apple founder. Steve Wozniak, who co-founded Apple with Jobs, says Kutcher's method-acting efforts, however, were not enough.
"I had such high hopes for this movie and, oh, it was so hard to say that it let me down a bit and it fell a bit flat," Wozniak told ABC News of the movie, which opened last weekend. Wozniak, portrayed in "Jobs" by actor Josh Gad, first spoke out against the film, calling it "disingenuous," in a review posted Friday on the tech website Gizmodo.
"I felt bad for many people I know well who were portrayed wrongly in their interactions with Jobs and the company," he wrote. Kutcher, 35, lost 18 pounds for the role by following the same fruitarian diet as Jobs, who died in 2011 at age 56. He also personified Jobs in other ways, he told reporters at a news conference earlier this month.
"I started consuming the things that he consumed, I started studying entrepreneurs he admired, listening to the music he listed to, eating the food he ate and walking the way he walked," Kutcher said. "He'd go for a walk when he wanted to have a meeting with someone and I just started doing that and started walking without shoes on and wearing Birkenstocks and going for one-hour walks every day."
Wozniak says Kutcher was successful in capturing Jobs' quirks, but fell short otherwise. "Ashton played Steve Jobs' mannerisms so well but he didn't bring out the thinking that makes us love Steve [and] the ideas that drove Apple forward," Wozniak said. Kutcher did not respond to ABC News' request for comment but did speak out earlier to The Associated Press to counter Wozniak's critiques.
"Steve Wozniak is being paid by another company to support their Steve Jobs film," Kutcher said. "It's personal for him but it's also business. "He was also extremely unavailable to us," Kutcher added. Wozniak wrote in his Gizmodo review that, "I suspect a lot of what was wrong with the film came from Ashton's own image of Jobs."
"Ashton made some disingenuous and wrong statements about me recently, and that I didn't like the movie because I'm paid to consult on another one," he wrote. "These are examples of Ashton still being in character. Either film would have paid me to consult, but the Jobs one already had a script written.
"I can't take that creative leadership from someone else. And I was turned off by the Jobs script. But I still hoped for a great movie." "Jobs" opened in seventh place this weekend with an estimated gross of just $6.7 million, despite a wide opening in both the United States and Canada.
Kutcher told " Good Morning America" earlier this month that he "wanted to honor" Jobs and "really admires" him but industry experts say it could have been Kutcher himself who brought the film down. "To some extent, it's gotten a bad rap just in light of the fact that it had the audacity to cast Ashton Kutcher as one of the most significant figures of the last century," Scott Feinberg of The Hollywood Reporter said.
"People have a hard time taking Ashton seriously," Feinberg said of the former star of "That '70s Show."
Source: Yahoonews