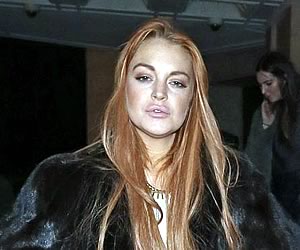 Lindsay Lohan was paid $100,000 to party in London. The 26-year-old star was allegedly offered the generous sum by Brunei's Prince Haji Abdul Azim – who is third in line to the throne of the Southeast Asian nation – in exchange for her ringing in the New Year (31.12.12) at his annual fancy gala.
The 'Liz & Dick' actress is struggling to pay off her tax debts and has reportedly been evicted from her $8,000-a-month mansion, so she jumped at the chance of being put up in the luxurious five-star Dorchester hotel all expenses paid. A source told the New York Daily News newspaper: "Prince Azim not only flew her out; he put her up in a beautiful suite in the Dorchester for the weekend and following the party. Her mom, Dina, is also in London with her at the hotel and attended the party."
The 30-year-old celebrity-mad heir also reportedly paid Lionel Richie a massive $250,000 to perform and offered $75,000 to his favourite buxom beauty, Pamela Anderson, to attend the wild party. Prince Azim is known for his extravagant bashes, and his New Year's celebration is particularly infamous. Held annually in the 10,300-square-foot ballroom at the posh hotel in Mayfair, guests' gift bags are filled with diamonds and expensive hi-tech gadgets.
The insider added: "He rents the ballroom and does this for his amusement. He rents the ballroom and pays stars to show up. Lindsay went because she's that desperate for a paycheque." Lindsay's father Michael wasn't impressed when he heard the news, and commented to Confidenti@l: "Now she's getting paid for dates?" – Femalefirst