Billionaire philanthropist Bill Gates has drawn attention in recent months for his active role and massive investment in COVID-19 vaccine development — but also as a doomsayer. He warned of a lack of global pandemic preparedness in 2015 during a TedTalk that has now been viewed on the site more than 40 million times.
In a new interview, actor and water equity philanthropist Matt Damon described Gates as anything but a pessimist. In fact, Damon said Gates taught him to overcome a "nihilistic" view of the immense challenge posed by global aid work and recognize that well-developed solutions can make definitive progress.
"I've certainly learned from his example. I've certainly watched him carefully," says Damon, who co-founded the nonprofit organization Water.org in 2009 and Water Equity in 2017. "He's done incredible things."
Until 2000, Gates led personal computing giant Microsoft (MSFT). That year, he and his wife co-founded the Bill and Melinda Gates Foundation, which now employs more than 1,600 and has given out nearly $55 billion in grants to public health and other initiatives around the globe.
"If you listen to him, he's always optimistic. And and I think that is a key takeaway: To look at the trajectory of humankind," Damon says. "Because it's so easy to become nihilistic and dark about this stuff."
"It's, 'We are going in the right direction, and there are solutions available' — that's what he says quite often," Damon adds. "Anytime I'm in a room with him, that's his clarion call, is that we're moving in the right direction."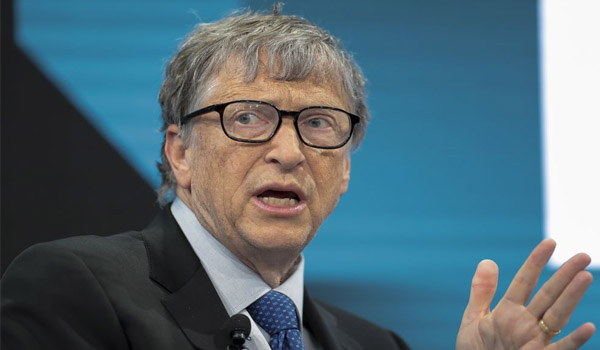 In 2019, Gates and Damon both spoke about their respective aid efforts at the World Economic Forum in Davos, Switzerland.
Since its inception, Water.org has disbursed 7.2 million small loans totaling $2.6 billion, which have improved water access for 33 million people, according to its website.
Damon said a wave of private sector investment could dramatically scale up the aid model, getting the world closer to ending the struggle faced by 2.2 billion people worldwide who lack access to safe drinking water.
"There are solutions. This one we're talking about: It is ready to reach hundreds of millions of people," he says "That's an exciting thing."
Damon and Gary White — CEO and co-founder of both Water.org and WaterEquity — spoke to Yahoo Finance Editor-in-Chief Andy Serwer in an episode of "Influencers with Andy Serwer," a weekly interview series with leaders in business, politics, and entertainment.
Damon kicked off his water philanthropy with the launch of H2O Africa in 2006, while working on a documentary called "Running the Sahara," which profiled three men who attempted to traverse the Sahara Dessert.
At a Clinton Global Initiative meeting two years later, Damon met White, who nearly two decades earlier had founded WaterPartners International, an organization that sought to alleviate the water crisis in Latin America, Barron's reported. The two began to discuss the possibility of a partnership, and Water.org was founded a year later.
In an interview with Yahoo Finance last month, Gates discussed how he strikes the balance between urgency and optimism as he tackles immense problems like climate change and global disease.
"You know, there are people who think it's going to be easy — and that's really a problem. There are people who don't think it's important — that's a problem. There's people who think it's impossible — that's a problem," he says. "How do you get all those people and say: Very important, very hard, very doable."
"I bring my optimism from other endeavors," he adds. "From the magic of software, Microsoft, and the magic of new vaccines that have saved tens of millions of lives through my foundation work."
Gates may also draw optimism from having rigorously studied how best to solve a given problem, Damon suggested.
"Anywhere you go in the world, when you interact with an organization that has Gates money, it's always the smartest money in the room," he says.