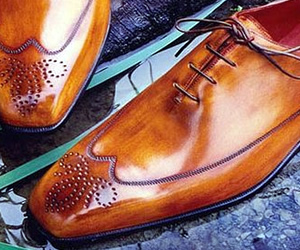 When we talk about shoes trend, clothing and accessories for men, something which is classy yet timeless requires a cost factor to be attached with it which makes it expensive or inexpensive. Unlike women, men believe in investing into a good fashion trend that sticks the fashion arena for a while or something which is considered golden in all eras. Shoes form an important part of the entire outlook of a man; therefore investing in expensive shoes is very common and considered to be a good choice. But buying the right pair of shoes in expensive shoes is indeed important.
Generally, the most expensive shoes in the world are considered to be the leather shoes. Pure handmade leather shoes are a treat to wear and they are certainly one of the best investments in expensive shoes for men. Brocs and oxfords are just the right choices for men in shoes to begin with. There are the classics in expensive shoes and fit for all occasions. Keep in mind that for shoes, durability and quality is a very essential feature and when spending a little extra on a pair of shoes, making sure that they fall on both the criteria is indeed important.
Big Italian designer brands are considered to be the pioneers of the art of shoe making and shoe trends and they continue to bring the best in shoes for men and women. Bali, Gucci, Testoni and many others are considered to be the gurus of shoe making and they certainly make one of the most expensive shoes for men. The most expensive pair of shoes so far has been created by Testoni which costs around $38,000 and it is purely hand made with crocodile-skin and lined with goat-skin. This shoe is a pure luxury in itself and perfect for all occasions and all seasons.
Lastly and very importantly, if you plan to buy a good pair of shoes then saving for it is not a bad idea. Try to consider it as an investment and not as an expense because you will have it as a long-term investment which will look good and classic always. Hence, at least a pair of expensive shoes is a must for men.