Spring 2015 Men's Fashion Trends – New York Fashion Week Edition.
[contentblock id=1 img=adsense.png]
Black & White Fashion Trend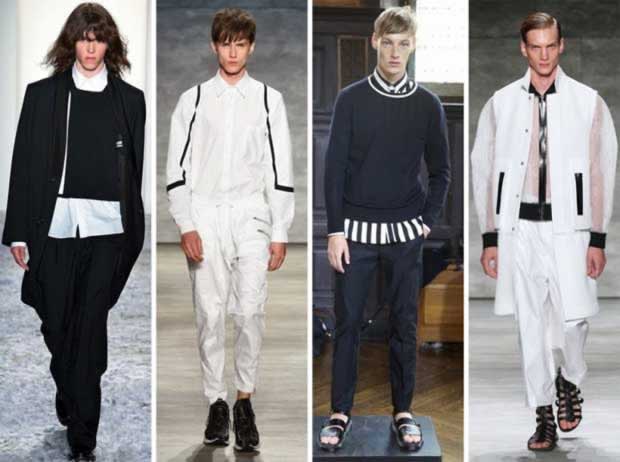 There's nothing new about a black and white combo, but there's a reason, it's a classic go-to. Both colors are accessible, create a great contrast and highlight smart design. The spring collections showed us that a black and white combination can be both subtle and bold. While Public School employed color blocking for a dramatic statement, labels such as General Idea and Skingraft contrasted with a trim, making a quiet but powerful effect. Meanwhile, Timo Weiland's lineup showed the genius of layering to create your power ensemble.
[contentblock id=2 img=adsense.png]
Sporty Urbanite Fashion Trend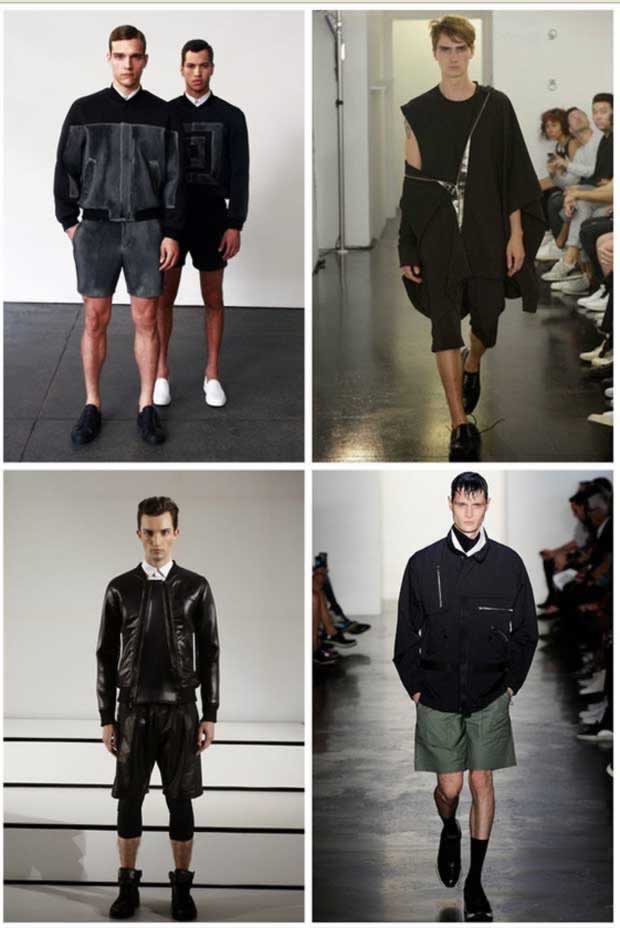 Urban has become one of fashion's favorite adjectives over the last couple of seasons. Describing a growing area of the menswear market, urban styles take inspiration from the popularity of streetwear, aiming to achieve a high-end take on sporty, youthful styles that blend the sophistication of the luxury market with the casual attitude of the street. There's perhaps no perfect locale than New York City to showcase the latest urban fashions. For spring, black dominates as loose fits are mixed with more tailored fits. Featured among shorts of varying lengths and fits, the undeniable star of the season was the jacket, whether looking to a must-have bomber jacket or a reinterpreted sweatshirt.
[contentblock id=3 img=gcb.png]
Chic Leisure Fashion Trend
Menswear designers know that men exist outside of the tailored suiting world and demand comfort and style. Pushing style forward, designers did not disappoint, marrying relaxed fits with varying proportions and versatile pieces that lend themselves on occasions to season-less dressing. From the wide-cut of luxe trousers at Siki Im to Billy Reid's playful use of prints and masculine colors, menswear was injected with a fun, fearless energy. Pushing the same freeing style perspective, labels that included Robert Geller and Richard Chai kept the momentum with joggers, bomber jackets, shorts, printed shirts and other contemporary essentials.
Nautical Fashion Trend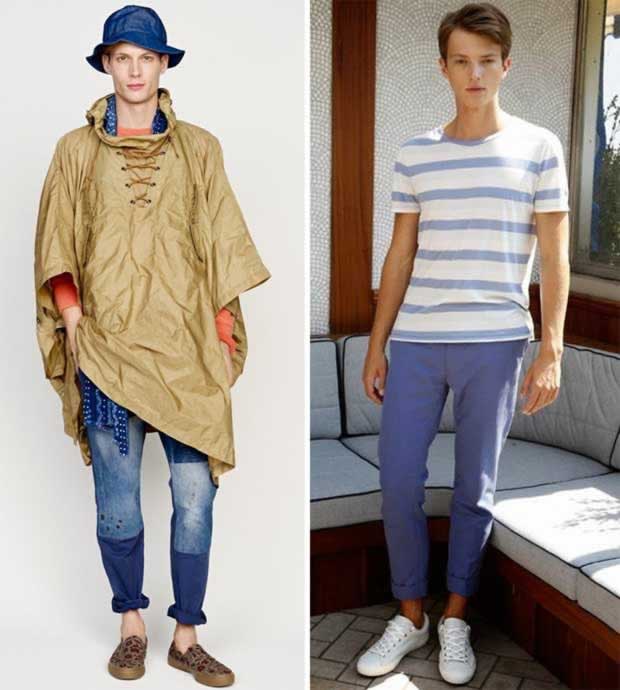 Relaxation is definitely on the mind for spring 2015 and for many designers, that meant sending their stylish men out to sea. Dead on for the trend, Michael Kors embraced navy nautical stripes and furnished raw denim jeans with a straight cut. The jeans are a standout that fit right in with the season's denim trend. Meanwhile, the sport of sailing found a place in Lacoste's spring outing, giving life to blue graphic prints. Besides J.Crew and GANT Rugger, who dished out casual fashions that are not only easy to wear, but smart at the same time, designer Lucio Castro made an interesting reference with a romanticized summer vision.