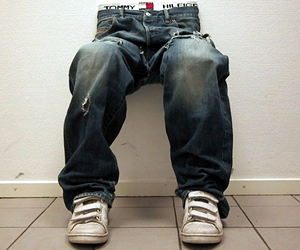 Tired of Jeans? Well no doubt jeans are the part of men's life for years and it is the3 only easiest type of clothing that men love to wear. You don't have to iron them and can be worn casually. If you are relaxing at home or going out with friends, if you are headed to pick up your kids from school or you going for sports jeans are always the best option for you and are no doubt the best inventions of all time for men.
But wearing jeans everyday becomes boring as you would want to just wear something  else other than jeans,  but wearing something that is not formal but casual you have to accommodate your wardrobe with some jeans alternatives that will not only be something other than jeans but also will change your usual look.
If you are a business man and you need to find a jeans alternative for yourself then go for Shipley and Halmos Marty Pants which are not so fancy but you can wear them casually in office environment that will change your look but will also give you a touch of sophistication and are comfortable.
Similarly the Tiger of Sweden New Stuen Trousers will also update your business look, if you get them in the navy blue color then they will fall in the same jeans color category, these pants can be worn in the evening friends gathering and the best jeans alternative.
Zara Trousers are one of the best jeans alternative for you, these cotton trousers can be worn everywhere with a shirt of sweater and gives a look of an expensive pair of pants.
Banana Republic Heritage Linen Pants are the perfect choice for a jeans alternative as you can wear a t shirt or address shirt and are machine washable. They are just perfect for this summer as a jeans alternative.
Martin + Osa Martin Chino is a jeans alternative that looks like jeans but comes in different colors, the wrinkles on it even after they are tossed off will still look fine when you wear them again. You can wear them with sneakers, jackets and sweaters.
Theory Marlo Pants are the perfect jeans alternative for evening wear, they are the alternative to jeans but  still look like them and yes they will still be in the dress code. These pair of pants are durable and you can wear them with jackets, sweaters and hoodies.
So, if you are tired for jeans and looking for jeans alternative these above mentioned pants are the perfect jeans alternative for you. Jeans are good but stop wearing them for a while and try these jeans alternatives, you will love them.