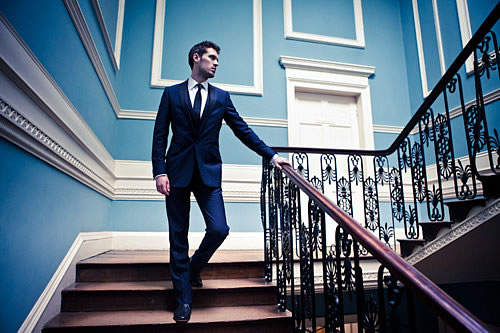 As a matter of fact, men's suiting is less stylish and trendy than women. However, the deficit can be compensated by stitching and tailoring of men's suit in an appropriate manner. One should understand what a man will look like to women when he is in well fitted suit. Only a well fitted suit increases the personality of men no matter on what occasion he wears. One can imagine the beauty of the women in fitted and well stitched suit, so is the case with the men. Most of the women remark, "I love a well fitted suit for men." Let us discuss how a well fitted suit enhances the glamour of men and increases the personality traits of the men:
I love a well fitted Suit:
Everybody loves to have a well fitted suit without gender discrimination. The obvious reason is the handsome and gorgeous looks. One should keep in mind that the well fitted suit doesn't mean that one should wear branded clothes and other suiting accessories. Well fitted suit means a dress with perfect cuttings and master tailored stitching that looks curvy with the body curves.
Manly looks glow in well fitted suit:
It can be seen and observed normally that only well stitched and well fitted suit enhances the manly looks of the man. The curves of the body, broad chest, build muscles are visible only in well fitted suit that's why most of the models and celebrities love well fitted suits.
Women like men in well fitted suit:
The basic purpose of the dressing is to look handsome and smart to others or specifically to the opposite gender. It would be pleasant to know for men that the women like men when they are wearing a well fitted suit because it make men more manly and in perfect shape. According to the latest survey, mostly men like women pick their clothes and women always prefer branded dressing for the male partners because they are well fitted and stitched according to the latest fashion styles. The trends of loose and easy clothes have gone long back. Now the fashion demands perfect fitting of the suits and well fitted fabric.
Well fitted suits don't mean branded suiting:
It is common misconception that the well fitted suit means the branded clothing and branded suiting. Actually, well fitted suiting means suits that are according to your body shape and your figure. It is not necessary that only a branded suit is well fitted. In fact, a quality fabric can be stitched in well fitting by an experienced tailor. The tailor would stitch your suit as per the standards of the clothing and will give you a new and charming look via your newly well fitted suit. The main purpose of the well fitted suit can only be fulfilled with well fitted suit because a well stitched and fitted suit would give you more handsome, smart and tall looks than you actually have.