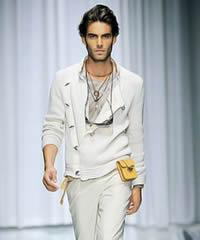 Men's fashion continue to change with the passage of time, there are so many things which are essential for men's grooming and make an important addition to men's wardrobe. Here are some of the basics to follow:
When it comes to men's grooming kit, a suit in navy or grey is a must for the wardrobe. Navy or Gray suits are classic and neutral and enhance men's grooming and are meant for various formal and informal occasions. You can even wear the blazer with khakis or jeans.
For men's fashion, black shoes and belt are must part of guy's wardrobe as they can be worn with khakis, jeans and your suit. This is an essential combo but focus on black, when you buy them. Belt and shoes are an essential part of men's grooming kit.
When it comes to men's grooming kit, white dress shirt works very well for day and night functions. They look sharp and are versatile but should not be worn as a casual shirt.
Men's grooming tip also emphasis on solid tie which give men easy and versatile look. You can go for a classic diagonal stripe or for a solid one. Having several tie patterns on hand will ensure that you are prepared for interviews, weddings and evening events.
Men's fashion also highlights blue blazer which makes an excellent combination with khakis and other items and sometimes with a tweed sport coat. Also, keep in mind that tweed is really useful in fall and winter. In order to enhance men grooming style, go for jeans and khakis.
Overcoat doesn't necessarily mean 3/4-length or car coat length and this item really finishes an outfit and can be worn with everything including jeans, they make a perfect match for men and enhance their persona. Men's grooming kit includes briefcase also for carrying official files and personal documents.  A casual polo shirt and an athletic wear make your Sunday relaxes and men's grooming kit chic.
Start with simple items for men's grooming kit and expand your lifestyle.