Tesla Motors didn't announce the self-driving car that some had expected, but did roll out an exotic suite of driver-aid and safety features Thursday night. The he gave no timeline, CEO Elon Musk said additional features over time, combined with the ones announced Thursday, could serve almost like auto-pilot on an airplane.
[contentblock id=1 img=adsense.png]
Tesla also said at a big briefing event here that it'll have a hopped-up version of its Model S that has all-wheel drive and blasts to 60 mph in little more than 3 seconds. Musk said in an interview with USA TODAY that his favorite car is the super-fast McLaren, a high-dollar, low-volume production car with racing attributes. Musk thinks the quickest Tesla will match the McLaren's 3.2-second sprint to 60 mph from standstill.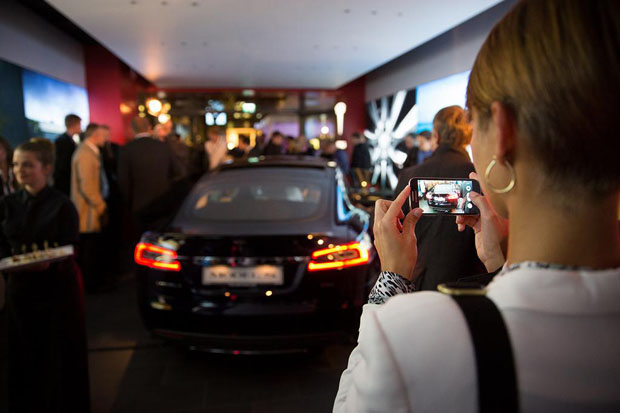 "It's like having your own personal roller coaster," he says. Tesla's moves are closely watched by its shareholders, who seem to bid up stock prices wildly, then sell, so the Tesla shares TSLA rocket, then tumble, more like technology stocks than auto-company stocks. And the electric-carmaker's moves often are considered a foretaste of what mainstream automakers might need to emulate to stay abreast of the latest technology.
[contentblock id=2 img=adsense.png]
Tesla announced Thursday that the all-wheel-drive versions of its Model S electric car will manage a slight increase in range of about 10 miles on a charge vs. the rear-drive models for a maximum of 275 miles because of efficiencies designed into the new system. The AWD cars have a second electric motor to drive the front wheels. AWD hybrids, such as the Lexus RX, likewise use separate electric motors front and rear to elminate the need for a front-to-rear driveshaft and other cumbersome AWD hardware.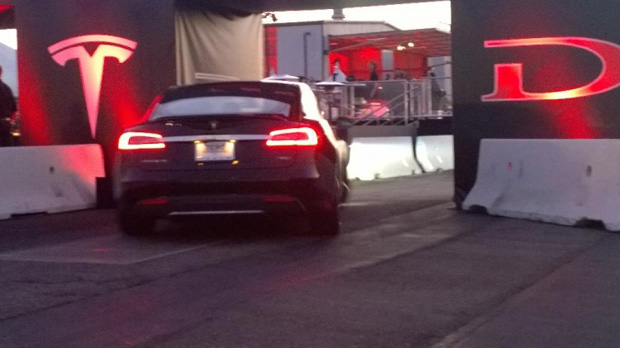 Musk, though, called his system "a huge improvement" that he claims is "taking the technology to the next level." The AWD cars will carry the designation D, and the new top version of the AWD Model S will be designated P85D. Buyers begin receiving those in December. The other AWD models, 60D and 85D, arrive in buyers' hands in February.
[contentblock id=3 img=gcb.png]
The addition of all-wheel drive will allow Tesla to compete more vigorously in the snowy East and Midwest, broadening is buyer base beyond the Sunbelt. Jaguar made a similar move to AWD in 2013, figuring it was competing in a shrinking slice of the luxury market without AWD, offered by most rivals.
Tesla's suite of safety features and driver aids is partly catch-up, partly leapfrog,.Tesla says the cars it's building now have forward-mounted radar, a camera and 12 sensors each able to "see" 16 feet to enable the safety tech. Those can't be retrofitted to older models, Tesla says.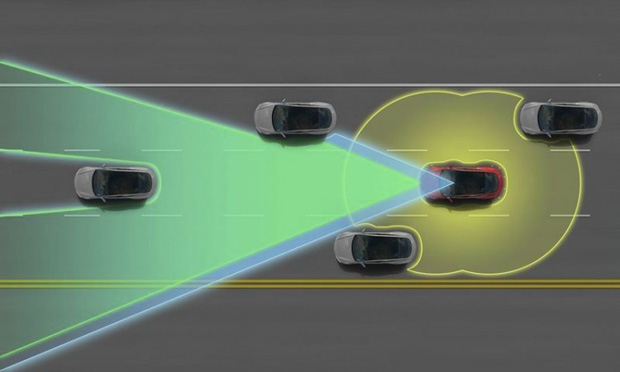 It also ties the system into the steering, braking and GPS, making it capable of unusual tricks that can't be matched by other cars.
Highlights:
•The new system will move the car over a lane when the driver uses the turn signal.
•The car reads speed-limit signs and adjusts the car to the speed on the sign.
•Drivers will be able to get out of the car in their driveways and watch it park itself in the garage. When drivers are ready to leave, the car will able to drive itself up, with the car's temperature and stereo system set to the driver's preferences.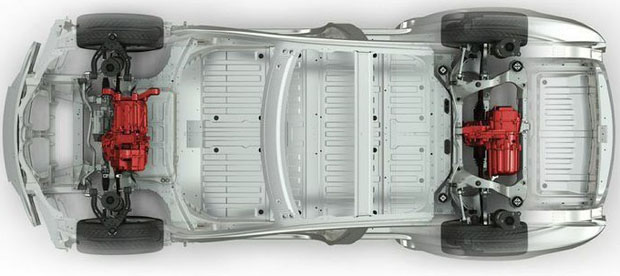 "It will come to you wherever you are," Musk says. "It will slowly make its way to you." Other features match the lane-departure warnings and additional safety and driver-help features that are getting common. Brands from Mercedes-Benz and Infiniti to more mainstream nameplates such as Hyundai have features that will keep a car in its lane, steer it back if it begins to wander, stop without driver help if it's racing too fast toward the car ahead.
The new AWD versions of the Model S made their debut at an general-aviation airport in this Los Angeles suburb. The ceremony included scores of current Model S owners. Owner Nikki Lennertz says she was impressed. "I think Elon Musk is a game changer" and she said what he's doing with electric cars "will change the auto industry in general."