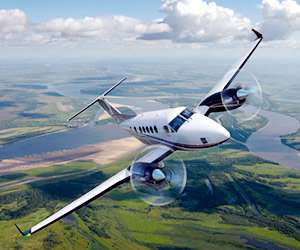 With class–leading capabilities and efficiency, the next–generation King Air 350i is the responsible, sustainable alternative that business aviation has been waiting for. As its segment's greenest aircraft, the King Air 350i can take more passengers farther on less fuel for consistent savings for your business. Plus, state–of–the–art design and performance enhancements represent new heights of power and durability.
The King Air 350i's new interior is the most comfortable and capable cabin ever offered in its class. The 350i's revolutionary Flexcabin™ system can be reconfigured for work or play, while the new Venue™ Cabin Management System makes flying more productive, entertaining and relaxing.
Whether you're traveling to major airports or unimproved airstrips, the versatility and comfort of the King Air 350i will show you why pilots, companies and governments in 105 countries have trusted more than 6,500 King Airs over the years – more than any other business aircraft.
If you require extended range or high–performance special mission aircraft, the endurance and economy of the new King Air 350iER (Extended Range) delivers the ultimate solution. This King Air can be custom modified to fulfill a wide variety of long–distance, highly technical missions.
Technical Data:
| Seating Configuration | Standard | Metric |
| --- | --- | --- |
| (Crew + standard pax / Max pax) | 1 + 9 / 11 | 1 + 9 / 11 |
| Avionics | Standard | Metric |
| --- | --- | --- |
| Manufacturer | Collins | Collins |
| Suite | Pro Line 21 | Pro Line 21 |
| Engines | Standard | Metric |
| --- | --- | --- |
| Manufacturer | P&WC | P&WC |
| Type | PT6A-60A | PT6A-60A |
| Power Rating | 1,050 shp | 783 kW |
| Dimensions (External) | Standard | Metric |
| --- | --- | --- |
| Wingspan | 57 ft 11 in | 17.65 m |
| Max Airplane Length | 46 ft 8 in | 14.22 m |
| Max Tail Height | 14 ft 4 in | 4.37 m |
| Dimensions (Internal) Cabin | Standard | Metric |
| --- | --- | --- |
| Length | 19 ft 6 in | 5.94 m |
| Width | 4 ft 6 in | 1.37 m |
| Height | 4 ft 9 in | 1.45 m |
| Baggage Capacity | 71.3 cu. ft | 2.0 cu. m |
| Max Baggage Weight | 1,150 lb | 522 kg |
| Weights | Standard | Metric |
| --- | --- | --- |
| Max Ramp Weight | 15,100 lb | 6,849 kg |
| Max Takeoff Weight | 15,000 lb | 6,804 kg |
| Max Zero Fuel Weight | 12,500 lb | 5,670 kg |
| Max Landing Weight | 15,000 lb | 6,804 kg |
| Useable Fuel Capacity | 3,611 lb | 1,638 kg |
| Basic Operating Weight* | 10,000 lb | 4,536 kg |
| Max Payload | 2,500 lb | 1,134 kg |
| Useful Load | 5,100 lb | 2,313 kg |
Performance
| Performance | Standard | Metric |
| --- | --- | --- |
| Maximum Cruise Speed | 313 kt | 580 km/h |
| Range: Max Payload | 947 nm | 1,754 km |
| Range: Full Fuel/Available Payload | 1,606 nm | 2,974 km |
| Range: 4 Passengers | 1,714 nm | 3,174 km |
| Range: Ferry | 1,805 nm | 3,343 km |
| Max Operating Altitude | 35,000 ft | 10,668 m |
| Take-off Field Length (MTOW) | 3,300 ft | 1,006 m |
| Landing Field Length (MLW) | 2,692 ft | 821 m |