Aircraft Highlights
• One Operational U.S. Corporate Owner 
• Engines on ESP Gold, APU on MSP, and Aircraft on FalconCare‐Parts Only 
• Forward and Aft Lavatories and Crew Rest Area 
• EASy II+ Avionics Upgrade 
[contentblock id=1 img=adsense.png]
• CPDLC FANS1/A & CPDLC ATN, ADS‐B Out, and TCAS 7.1 Upgrades 
• WAAS GPS and Enhanced Navigation with LPV Upgrade 
• Enhanced Flight Vision System (EFVS) and Head‐up Guidance System 
• SmartView® Synthetic Vision System (SVS) 
• MCS‐7120 Satcom with SwiftBroadband and Wi‐Fi 
AIRFRAME
PLAN: Dassault FalconCare® ‐ Parts Only
TTSN: 2,387.6 hours
TLSN: 1,214 landings
Time/Landings as of 03/28/2016
ENGINES
TYPE: PW307A
PLAN: Pratt & Whitney Eagle Service™ Plan (ESP®) Gold
#1 (Left) #2 (Center) #3 (Right)
Serial Number: PCE‐CH0235 PCE‐CH0234 PCE‐CH0233
TTSN: 2,387.6 hours 2,387.6 hours 2,387.6 hours
TCSN: 1,214 cycles 1,214 cycles 1,214 cycles
HOT/OVHL Due: On Condition On Condition On Condition
Times/Cycles as of 03/28/2016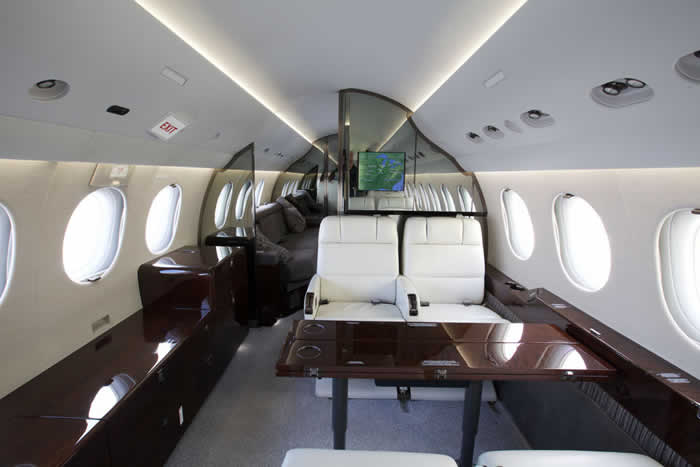 APU
TYPE: 36‐150FN
PLAN: Honeywell Maintenance Service Plan (MSP)
Serial Number: P‐186
TTSN: 1,185.0 hours
HSI Due: On Condition
Time as of 03/28/2016
INTERIOR
Passenger Seating Capacity: Twelve (12) Approved for TT&L
Cockpit Jump Seat: Yes – Crewmember Use Only During TT&L
Crew Rest Area – Yes/FWD RH – Crewmember Use Only During TT&L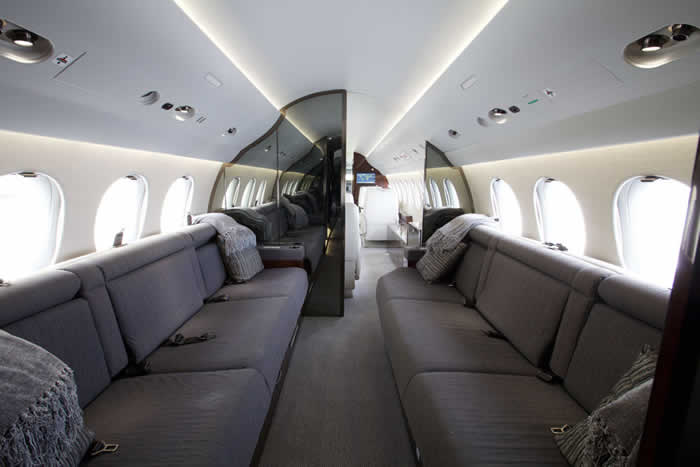 Configuration:
This spacious interior accommodates up to twelve passengers in three distinct seating areas and is configured with a large forward galley and galley annex, a forward crew rest area, a forward right‐hand lavatory across from the main entrance door and an aft lavatory with a large closet and in‐flight (below 40,000') baggage compartment access.
Seating, Storage, and Miscellaneous:
The cabin seating arrangement consists of a forward four‐place club seating group followed by a left‐hand four‐place conference/dining group opposite a credenza, and the aft cabin features two opposing three‐place berthing divans (the forward seat on each divan is not certified for occupancy during TT&L). The main cabin's individual and double seats offer varying degrees of swivel, tracking, recline and berthing capabilities, as well as four‐way electric lumbar, articulating seat pans, and either dual or center retractable armrests. The forward cabin's two forward‐facing seats feature recliner type leg rests. Each divan manually tracks inward approximately 12" and features a center seat fold‐down seat back cushion with a snack table
built into the back with two cup holders, as well as two fold‐down armrests.
[contentblock id=2 img=adsense.png]
A bulkhead with a solid pocket door separates the forward cabin from the galley and crew rest area, a wooden bulkhead with stowable curtain separates the mid and aft cabins, and a hinged door separates the aft cabin from the aft lavatory. The cockpit features a left‐hand convertible crew closet with a removable forward bulkhead allowing for the pilot seat to recline. The right‐hand forward crew rest area is approximately 78" long and features a single seat with berthing capability and a foot rest, stowing privacy curtains, and two windows. A fold‐down coat rod provides storage when the crew rest is not used by a crew member. In addition to the aft lavatory closet and baggage compartment, there are various storage drawers, side ledge boxes, tracking magazine racks, a mid‐cabin credenza with multiple storage drawers, and divan armrest storage cabinets. Folding, stowing console tables are located at each pair of individual cabin seats, and the dining/conference table features electric telescoping, manual folding leaves, and a manual tracking table top with a 12" plug extension. The main cabin features EMTEQ LED lighting and there are 115 VAC outlets in various locations throughout the cabin.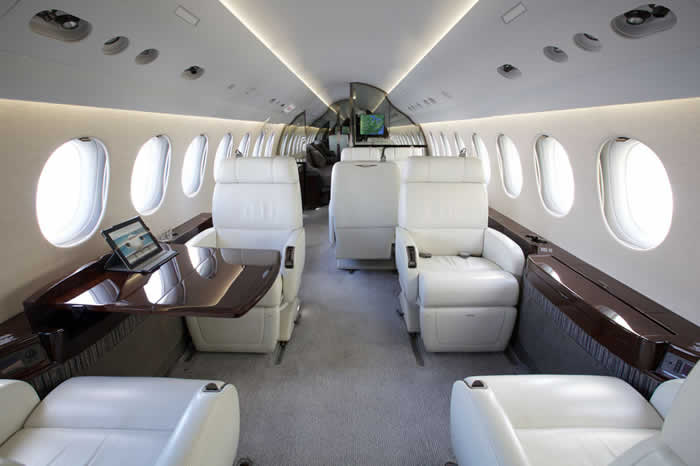 Cabin Management & Entertainment:
Rockwell Collins' Falcon Cabin Management System (FCMS) is installed along with optional PSW Color OLED Entertainment Controls in lieu of the standard LCD controls. The FCMS audio/video equipment consists of multiple individual passenger control units and headset jacks, two additional PSW Color OLED Entertainment Controls, a DTSystems cabin audio system, a dual CD/DVD/MP3 player, one FWD R/H bulkhead‐mounted 21.3" color LCD monitor, one L/H forward‐face mid‐to‐aft cabin bulkhead‐mounted 17" color LCD monitor, one auxiliary cabin audio/video interface (RCA style A/V jacks that work with compatible devices such as iPods and MP3 players), and an Airshow® 4000 in‐flight information system with a Flight Deck Controller.
Communications & Data:
An Aircell Axxess II Iridium® Satcom and a Honeywell MCS‐7120 Inmarsat Satcom provide satellite voice calling capabilities via multiple handsets located throughout the cockpit and cabin. The MCS‐7120 contains an HD‐710 providing SwiftBroadband internet data via Ethernet ports and available Wi‐Fi.
EXTERIOR
The exterior is painted in overall "Matterhorn White" with "Country Life", "Devonshire
Green", and "Sage Mountain" stripes.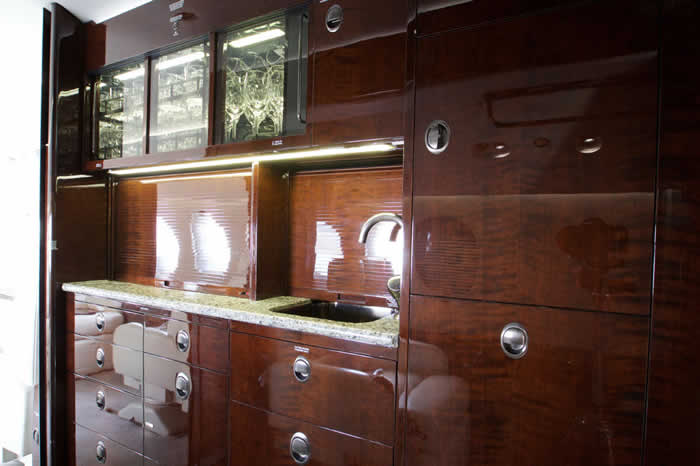 REMARKS
Aircraft Weights:
MAX RAMP: 70,200 lbs.
MAX TAKEOFF: 70,000 lbs.
MAX LANDING: 62,400 lbs.
MAX ZERO FUEL: 41,000 lbs.
EMPTY WEIGHT: 35,414.5 lbs.
MAX FUEL: 31,940 lbs.
ADDITIONAL FEATURES
EASy II Upgrade (SB 7X‐300R2)
EASy II+ Upgrade (SB 7X‐320)
CPDLC FANS 1/A Capable (SB 7X‐309R2 – FANS‐Over‐Inmarsat Configuration)*
CPDLC ATN (Link 2000+ SB 7X‐308R2) Capable*
ADS‐B Out (DO‐260B) Capable (SB 7X‐302R1)
TCAS 7.1 Capable (SB 7X‐197R1)
[contentblock id=3 img=gcb.png]
RVSM, NAT/MNPS, RNAV, RNP Capable
RNP 10 & RNP 4 Capable
RNP RNAV Ops Down To RNP 0.3 RNAV
Enhanced Navigation with LPV Capable (SB 7X‐301R1)
Synthetic Vision (SB 7X‐303)*
Replacement of Air Data Smart Probes (SB 7X‐285)
Extended Crosswind Capabilities (SB 7X‐198)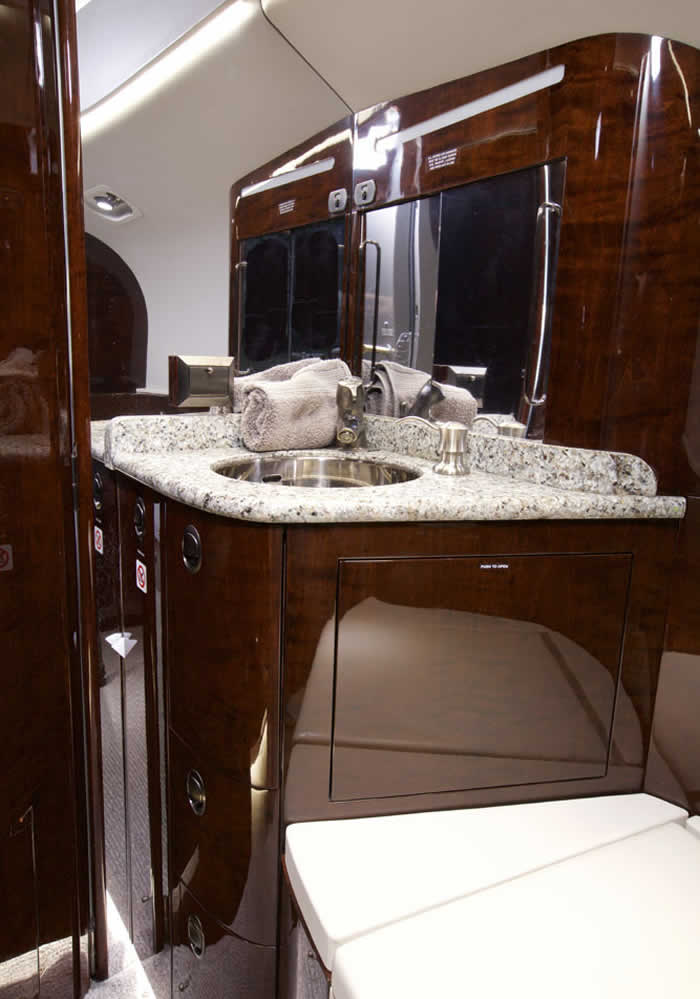 Honeywell MCS‐7210 Alphasat Software Update (SB 7X‐363)*
Miltope Flight Deck Printer
Flight Deck Video Interface
Honeywell Uplink Weather Capability*
Brother MFC465CN Facsimile, Copier, Printer, and Scanner Unit
KGS Electronics SS200B (2000VA) Static Inverter
Securaplane 450 Aircraft Security System
Installation of a Reinforced Collapsible Tow Bar (SB 7X‐112R1)
Improvement of Full – Refueling Time (SB 7X‐228)
*Certain Installed Applications/Equipment Require Optional Subscriptions