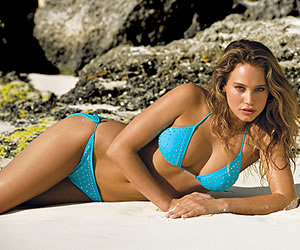 Introduction of the Fashion Model; Hannah Davis
Hannah Davis, an American Fashion Model, famous for her Ralph Lauren fragrance promotion was born on May 5th 1990. By growing up in the Virgin Islands of the United States, the fashion model, Hannah Davis states that she liked being brought up at a place where people were friendly. Hannah Davis loved the weather of the place where she had lived and not to forget the beaches of the Island where she was living which gave an insight to her to become a fashion model.
Career of Hannah Davis
When the fashion model turn 14 she was pointed out as a potential fashion model by a family friend who was a model himself, Ginny Edwards Maxwell. Hannah Davis was lucky to still have Ginny Edward Development as her mother agent till date; they signed her to the IMG Models existing in New York.
Hannah Davis began her professional career with the appearance on her promotions for the famous Blue Label and Ralph Lauren. The fashion model has also done some runaway shows back in the summer of 2006. Hannah Davis got a career break when she was attached with Ralph as the face became popular in front of the audience.
Hannah Davis also managed to become the cover photo two different and unique Italian Magazines, D Magazine and the Mexico Elle back in August 2009. This didn't end her career, the fashion model went for the Victoria's Secret and also the American Eagle. Hannah Davis was also given the opportunity to work for Levi's and Tommy Hilfiger.
Personal Life of Hannah Davis
According to the fashion model Hannah Davis, she has a love for new clothes and also keeps herself busy in the designing of jewellery herself. Being a fashion model was her destiny, nevertheless, Hannah Davis was also a sports person since the time she turned 8. She played tennis and successfully became a champion on the Caribbean National tennis team. The Caribbean Tennis Circuit gave her an early fame as well. Not just this, Hannah Davis was also a part of the National Team of Volleyball too.
Dating Plans
Fashion model is famous to be paired with one person or the other. Hannah Davis is no less. She has had friends, some intimate and some temporary. These days, it's known that the fashion model is dating New York Yankees shortstop Derek Jeter. Let's see how far the relationship between the two goes.