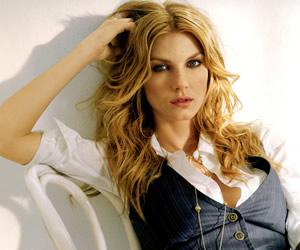 Angela Lindvall is an American model and occasional actress who started her career at an early age and made her mark in the world of fashion in no time. She has worked for all the major international fashion houses and has done a lot of fashion shows over the years. She has also done the covers of major fashion magazines several times and endorsed several brands.
Let's take a look at the life and career of this beautiful diva; Lindvall.
• Early life
Angela Lindvall was born on January 14, 1979 in Midwest City, Oklahoma. She was born to pharmacist dad and a medical technologist mom. She was raised in Lee's Summit, Missouri.
• Modelling Career
Lindvall's fast growing height became the reason for her to go for modeling at an early age. She was suggested by her friends at the age of 14 that she should opt for modeling and try her luck. That she did, and was spotted in a fashion show in Kansas City by a photographer of IMG Group. She was instantly signed for the IMG modeling agency for which she worked for years.
• Fashion shows
Lindvall started her career at the age of 14, and then there was no looking back. She saw the height of glamour of being a super model. She has done much of her work in New York and has stopped the shows of many world famous designers including Marc Jacob.
• Magazine covers
She has privileged the covers of all the huge fashion magazines with her fabulous looks. Be it Vogues, Elle, Harper's Bazaar, ID, Dazed and Confused; you name it and Angela Lindvallhas done the cover for it. She has appeared on the covers several times and has done a great job every time. She has the looks to turn the heads towards her twice.
• Endorsements
Linvall has worked with almost all the international fashion houses and has done their campaigns. Prada, Chanel, Valentino, Gucci, Louie Vitton, DKNY, Calvin Klein, Jil Sander, Chloe, Stella MCartney, and Versace are just to name a few that Linvall has done modeling for. She has done their campaigns as well as their collections at the fashion shows. She has also stopped the shows for many of them.
• Social work for the environment
Linvall has the soft corner for the mother earth as well. She has founded the Collage Foundation to create awareness in the young people about being environment conscious. She was also named Best Dressed Environmentalist in 2004 and 2005 by the Sustainable Style Foundation. She is also the spokes person for Biotherm Skinergetic 99% organic skincare.
• Personal life
She has been married to a South African diver; William Edwards from 2002 to 2006. She has two sons; William Dakota and Sebastian.
Her younger sister; Audrey Lindvall, also a model was killed in an accident in 2006.