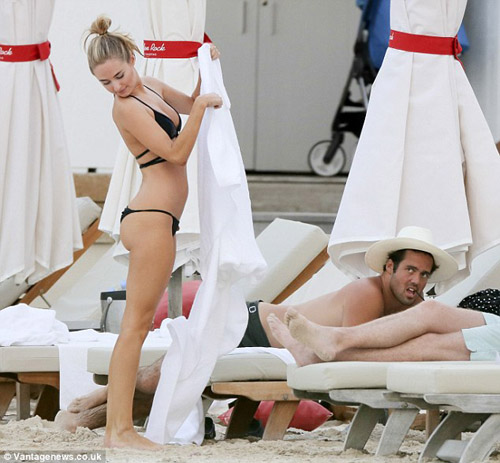 She was once the object of his affections, until he blew any potential hopes of romance with his rather forthright approach to dating. But Spencer Matthews enjoyed an impromptu reunion with his former Made In Chelsea co-star Kimberley Garner as she displayed her perfect bikini body on the beach at St. Barts' Eden Rock Hotel. The 25-year-old lothario certainly seemed to be admiring the view as the statuesque blonde stripped off in front of his sun-lounger, showing off her washboard abs and peachy derriere in a barely-there bandage-style two-piece.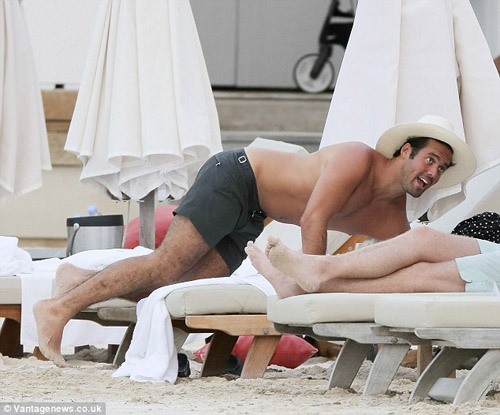 Sipping on a cocktail as he took in the picture perfect vista, Spencer was positively open-mouthed at one stage as the swimwear designer turned around to admire her behind in her skimpy bikini. But while the former broker was enthralled by his former flame, Kimberley Garner didn't even seem to notice him as she lapped up the sun and frolicked in the ocean. Making sure not to distract attention away from her toned and tanned physique, the 23-year-old property heiress completed her beach look by opting for minimal make-up and wearing her blonde locks pulled back off her face into a loose bun.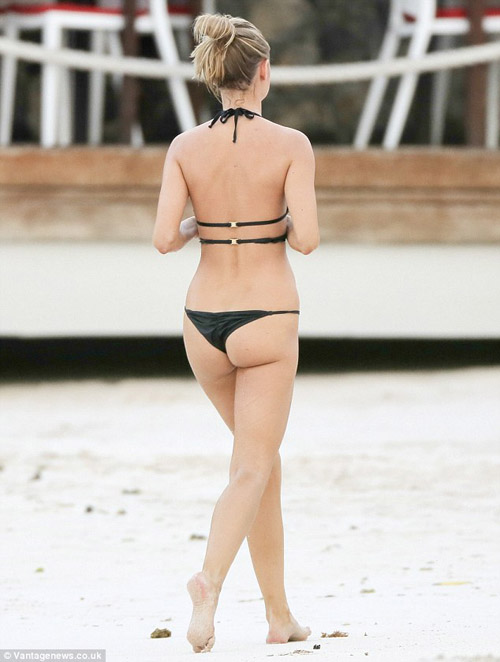 It would appear it was a case of out with the old and in with the new for ladies' man Spencer, who was only spotted cuddling up to Leonardo DiCaprio's model ex-girlfriend, Emma Miller, a matter of days ago. The womanising reality star were seen cuddling and kissing as they reclined happily on a sun-lounger at Eden Rock, which is owned by Spencer's parents. Spencer and Kimberley Garner enjoyed a brief romance during the third season of Made In Chelsea back in 2012, when Spencer and his best pal Jamie Laing openly battled for Kimberley's affections. Despite an all-out war breaking out between the competitive duo, Spencer blew his chances on his first date with the heiress thanks to his rather forthright manner, which left Kimberley red-faced when he openly asked her if she was a virgin.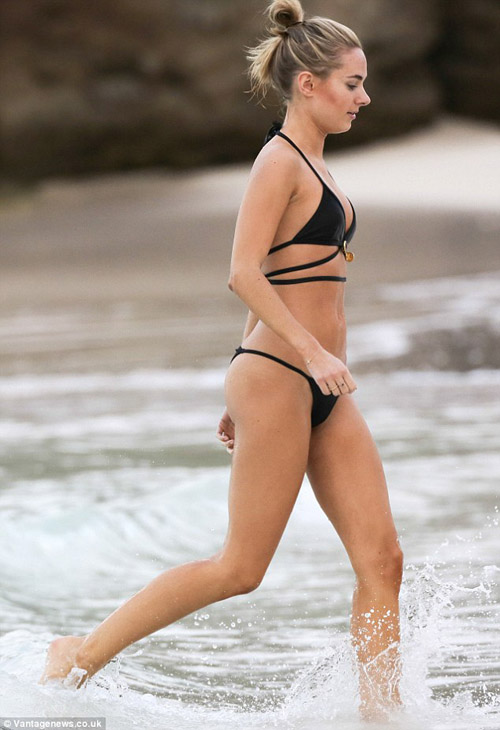 He probed: 'Is it difficult to be such an attractive girl? You are a very striking person. You do dress very seductively. You ooze sexiness and yet… Can I ask you a very personal question? I was under the impression you were a virgin. Spencer's most recent relationship was with The Hills starlet Stephanie Pratt, from whom he split in September after what he called a 'holiday romance'. Since then, he has claimed to have slept with ex-girlfriend Louise Thompson – a claim Made In Chelsea viewers saw her vehemently deny on the show.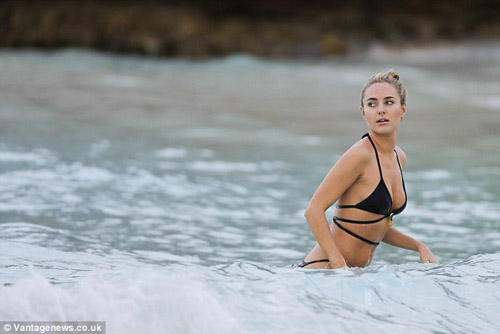 However, in his exclusive blog for MailOnline, Spencer insisted he was going to do his utmost to stay unattached for 2014. Revealing his New Year's resolutions, Spencer wrote: 'To stay young, free and single. OK, this one might be harder to keep but so far, one week in and I'm doing fine.' Spencer also previously dated co-stars Lucy Watson and Caggie Dunlop, and claims to have slept with 1,000 women.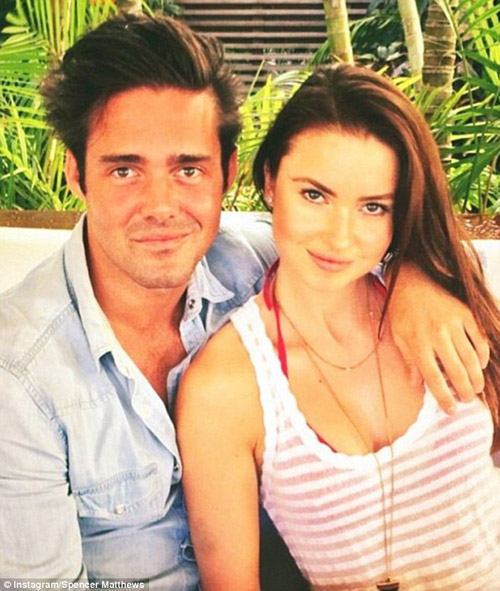 He said in his book Confessions Of A Chelsea Boy: 'I'm not a sex addict, I just have an unhealthy appetite for sex. I don't disclose how many women I've slept with in the book because I think that should be private. 'Let's just say it's a similar number to Kirk Norcross in his book which was a thousand. But I stopped keeping score when I was about 16. I'm a lover of life and I'm a lover of women.' -Dailymail