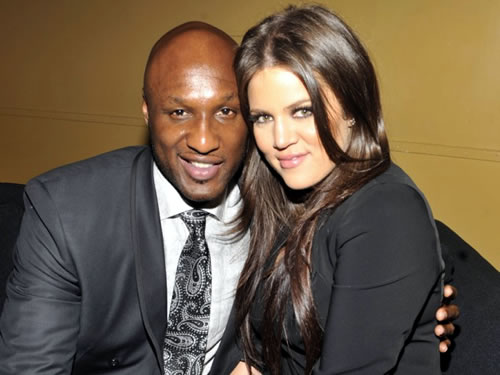 Khloe Kardashian has allegedly threatened to file for divorce from Lamar Odom. The 'Keeping Up with the Kardashians' star is furious that her husband of four years, 33, has been accused of having affairs with two different women and has told him she will file for a legal separation if more cheating rumours surface.
A friend close to the 29-year-old reality TV star, who is reportedly worth $18 million, told Life and Style magazine that Khloe is "humiliated and p***ed off" about allegations Lamar cheated on her with Jennifer Richardson for a year until March 2013 and also had a six-week long affair with lawyer Polina Polonsky at the start of the summer.
The insider said that Khloe and Lamar, who has an estimated fortune of $56 million from his 14-year basketball career, signed a pre-nuptial agreement with a built-in cheating clause that would see her secure $500,000 for every year they were married if he is unfaithful to her.
The source added: "With both mistresses coming out, she can't handle much more. If more women come forward, she will do it. "(Although) Khloe is a strong girl, the cheating rumours have really worn her down." Khloe's mother Kris Jenner previously denied her daughter was preparing to file for divorce. She recently said: "Khloe and Lamar are absolutely not getting divorced. There's been no talk of divorce."
Other sources close to the couple, who got married just one month after they started dating, also insisted that Khloe has not even spoken to a divorce lawyer. – Contactmusic