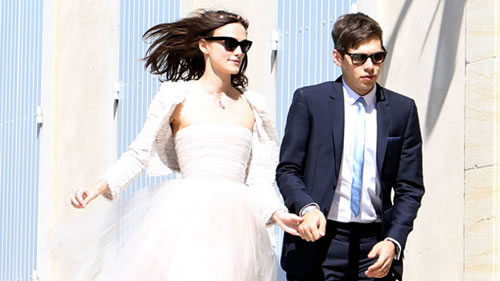 Wearing a simple but elegant short, strapless tulle dress, actress Keira Knightley said "oui" to musician James Righton in a low-key, intimate wedding ceremony in southern France Saturday. The 28-year-old "Pirates of the Caribbean" actress paired her dress with pale ballet pumps, a cropped Chanel jacket and a daisy-chain garland on top of her loosely-styled shoulder-length tresses.
Pictures of the happy occasion show Knightley and her new husband, 29, leaving the town hall in Mazan, France, hand-in-hand, with just 11 guests, including Righton's bandmates and Knightley's mom, cheering them into a battered Renault Clio. Afterward, 30 to 50 guests attended a garden luncheon and an evening party, where Righton's band, The Klaxons, performed, at the Mazan vineyard Knightley has owned since 2010, People magazine reported.
In March, Knightley told Marie Claire, "We're not really big-wedding types." In fact, Knightley's dress was a recycled blush pink Chanel haute couture design she last wore in 2009 for a pre-BAFTA party, People reported. She made it wedding-worthy with matching flats and a coordinating jacket, designed specifically for her wedding by Chanel creative director Karl Lagerfeld, a rep for Chanel confirmed to the magazine.
Knightley and Righton got engaged in May 2012, about a year after they were first spotted together in public. – Yahoo