She left TV presenter Richard Wilkins red-faced when she unveiled her latest and rather racy video for single Sexercise on Wednesday morning. But by the afternoon Kylie Minogue had put the sexy leotard and vertiginous stiletto heels to one side as she promoted her album Kiss Me Once in Paris.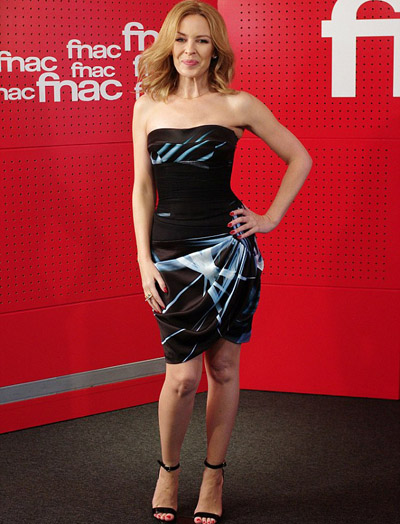 Instead the 45-year-old looked the picture of elegance wearing a stunning strapless black mini dress, given off just a hint of sex appeal. The black dress featured a draped detail in the skirt and a graphic blue print, which added an injection of co lour. Her simple yet effective look was completed with two strap heels and a relatively make-up free face. The look clearly went down well with her delighted fans who queued up for the chance to meet the pint sized pop star. Kylie Minogue appearance comes just hours after she debuted the video for Sexercsie, which sees her parade her toned figure in all its glory as she slips into a skimpy leotard.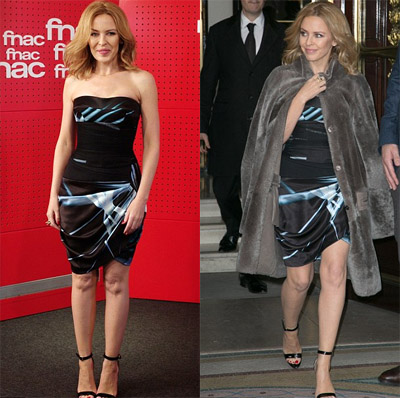 In the video, Kylie Minogue proves she has still got the body and the moves, as she dances seductively and writhes on gymnastics equipment dressed in a skin-tight white jumpsuit and red heels. The musical offering is sure to get pulses racing as Kylie – who unleashed a sneak peek on The Today Show earlier in the day – bounces suggestively on an exercise ball and writhes around on a gymnastics pommel horse. The song is one of the more sexual songs on the Australian star's latest album, Kiss Me Once, which is her first in four years. Kylie described the song as one of the 'fun tongue-in-cheek ones' from the album, and said on The Today Show: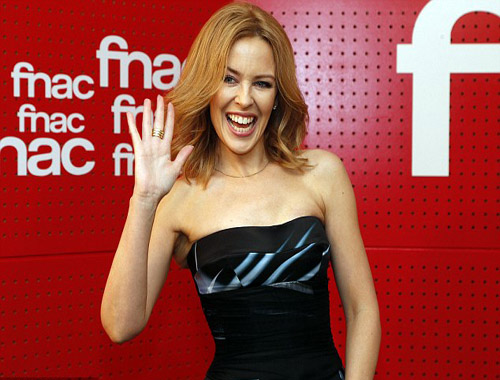 'That's open to everyone's interpretation how they like to Sxerciser.'To which an embarrassed Richard Wilkins mumbled: 'Oh dear.' Director Will Davidson, who also shot the viral video for Skirt, is said to 'take the viewer on a voyeuristic journey working out, sweating it up in the steam room and scenes that will no doubt see gym memberships soar'.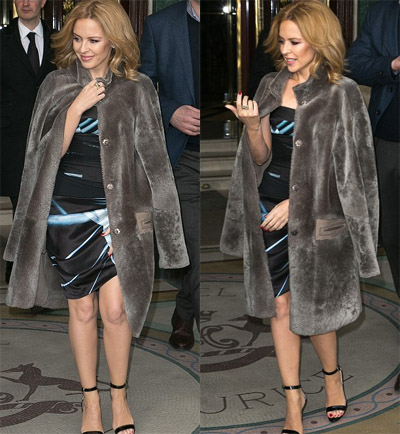 The skimpy outfit worn by Kylie Minogue is reminiscent of the famous white ensemble she wore in the music video for the 2001 song, Can't Get You Out Of My Head. Sexercize is one of the hit songs from her newly released album Kiss Me Once, her first studio album in four years. In an interview on Wednesday night with Channel Nine's A Current Affair, Kylie chatted about the album's sexy subject matter.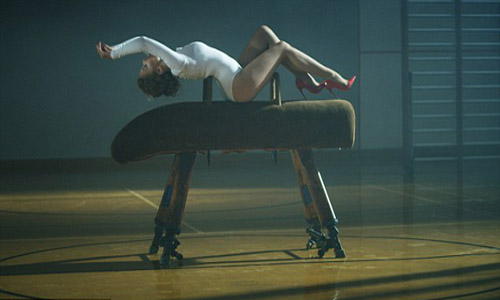 'I'm going to be strung up! Who have you become?' she jokingly asked herself. The pop star also chatted about her relationship with the late Michael Scutcheon, saying he completely changed the course of her life. Kylie Minogue is set to be a judge on this year's Australian season of the talent show The Voice after enjoying a successful stint on the British version. The past year has been dramatic for Monologue, during which she split from boyfriend of five years Andres Solvency, changed her management team and lost the assistant who'd been her right hand for more than a decade. -Dailymail