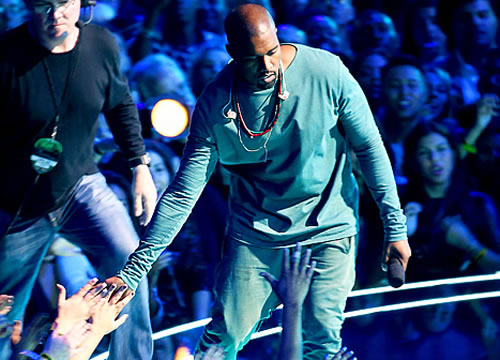 Imma let you finish, but Kanye West is back in the game, y'all. The rapper made a surprise appearance at Brooklyn's Barclays Center for the MTV Video Music Awards on Sunday, Aug. 25, giving a rousing performance of his new track "Blood on the Leaves." The show-stopping performance, which was introduced by 30 Seconds to Mars frontman Jared Leto, marks the first time that the first-time father has returned to the stage since the birth of his daughter, North West.
West, 36, kicked off his set with an extremely close-up shot of his face cast in a red light, and later moved into an entire setup wherein he danced and rapped entirely in silhouette, with a giant backdrop of sepia-colored leaves behind him. Girlfriend Kim Kardashian wasn't in town for the awards ceremony, but tweeted her support for her man: "Best performance of the night Kanye West!"
Earlier this month, the outspoken rapper sat down with Kardashian matriarch Kris Jenner on her show Kris to speak out about that memorable incident at the MTV Video Music Awards four years ago, when the then-inebriated rapper had ruined Taylor Swift's win for Best Female Music Video by interrupting her acceptance speech.
"The last thing I would want to happen to my daughter is some crazy drunk black guy in a leather shirt to come up and cut her off at an awards show," the "Black Skinhead" rapper said. "That's the last thing I'd want."
Source: Usmagazine