He is known to his fans as Goldenballs. But David Beckham was dripping in golden goo after he was slimed at the Nickelodeon Kids' Choice Sports Awards in Los Angeles on Thursday. The 39-year-old was unceremoniously covered in the sticky substance as he took part in a skit onstage with his boys Romeo and Cruz.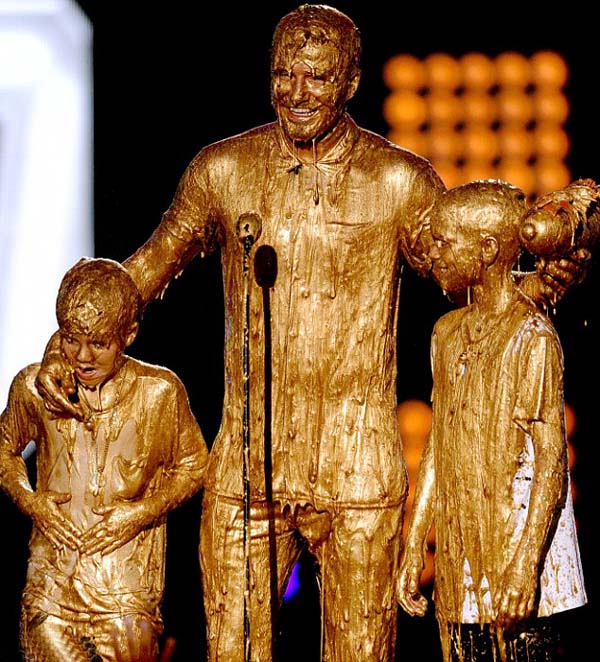 And ever the old pro, the jolly former LA Galaxy star still managed to raise a smile after being covered in the unsavory liquid. And while he always seems to come out of everything smelling of roses, this was the one occasion where the England star's luck ran out. David Beckham While he was able to grin and bear it, his nine-year-old son Cruz looked rather devastated his snazzy T-shirt had been ruined in the incident.
The retired midfielder was one boy short as he attended the popular children's event at the UCLA Pauley Pavilion. It was the perfect opportunity for a boys only night out, with Romeo, 11, and Cruz seemingly having a great time as they hammed it up with their old man oin the red carpet. But his 15-year-old son Brooklyn was conspicuous buy his absence as the power trio posed up in front of adoring fans.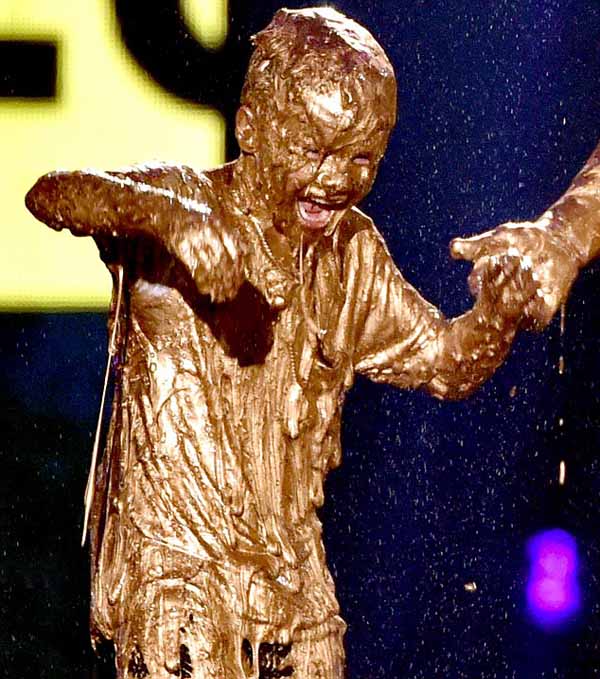 But David Beckham and his boys were not the only big names in attendance at the star-studded event. Indeed Transformer actress Megan Fox almost stole the show by living up to her moniker in a short green and gold dress that showcased her slender pegs. Another starlet who turned heads on the red carpet included US Olympic gold medal winning gymnast Gabby Douglas.
But there were plenty of older stars of sport and showbiz who gave their young fans a thrill by attending. America's Got Talent host Nick Cannon had a great time firing T-shirts into the crowd before handing over the Favorite Comeback Athlete award to surfer Bethany Hamilton Hercules star Dwayne 'The Rock' Johnson, boxing champ Floyd May weather and failed chat show host George Lopez where others who made it an event to remember. -dailymail