Lamar Odom will no longer pay his father Joe Odom's $2,900 monthly rent after his dad spoke out against his wife Khloe Kardashian and her family.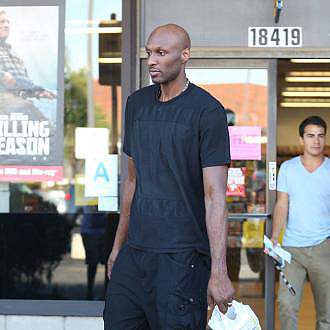 Lamar Odom is no longer willing to pay his father's rent.
The 33-year-old basketball star, who is reportedly worth $18 million, is still furious with his dad, Joe Odom, for publicly blaming his estranged wife, Khloe Kardashian, and her family for his alleged drug problem.
Joe told gossip website TMZ.com that Lamar, who is reportedly addicted to crack cocaine, called him earlier this week to vent his anger over comments the army veteran made about him and the Kardashians to a British magazine earlier this week, and made it clear that he will no longer pay Joe's $2,900 monthly rent.
The former LA Lakers star has paid Joe's rent for four years.
Joe, who is a recovering heroin addict, claims he can't afford to pay his own bills and will be kicked out of his house at the end of next month if Lamar doesn't forgive him.
Joe has already apologised for branding 'Keeping Up with the Kardashians' star Khloe, 29, and her family, including her mother Kris Jenner, "controlling" and saying Lamar would be "better off without" the reality TV stars in his life.
He retracted his original comments, claiming he was simply "frustrated" by the rumours about his son, just one day after Lamar lashed out at him on Twitter on Tuesday (24.09.13).
Lamar wrote: "He disrespecting the ONLY FAMILY that has loved me without expecting anything in return. They are the ONLY ones that have been here consistently 4 me during this dark time. (sic)
Via – contactmusic