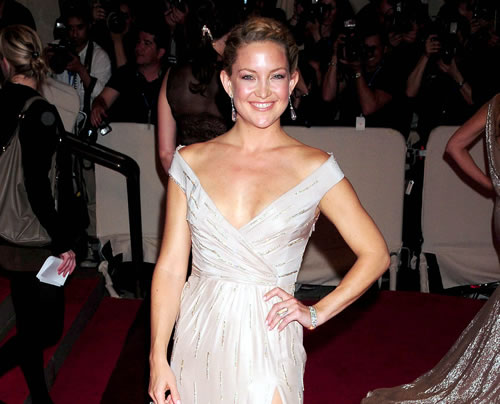 At a glance, it may appear as though Hollywood's A-listers have it all. But Kate Hudson reveals in the December/January issue of Harper's Bazaar that appearances can be deceiving. The "Glee" star graces the cover of the fashion mag wearing a gorgeous bubble-gum pink Lanvin dress that retails for a whopping $3,990, but the blond bombshell is quick to explain that it's only on loan, just like most of her red carpet ensembles.
She told the mag, "People think we own all these dresses, but we borrow them! I can't afford to buy that stuff. There are certain things I splurge on, but it's very rare, especially when you have two kids and school tuition. I'm not a big high-end fashion shopper. I wish I could but the truth is things are just so expensive. Before Isabel Marant was a million dollars and famous, I used to go to her store in Paris and go crazy, it was so affordable."
And the 34-year-old revealed that she inherited her money-saving ways from her famous mama, Goldie Hawn. "My mom wasn't a big shopper for us," says Hudson. "I think they wanted to instill that in us even though we grew up in a really privileged and lucky lifestyle."
Check out the vid to see Kate's lavish Lanvin look, and be sure to tune in to "omg! Insider" on TV tonight for the latest in entertainment news.
Source: OMG.Yahoo