Mostly girls love to be with long height men due to which the shorter guys gets into inferiority complex. They get confused with two main things while dressing up; one is the fear of their appearance as short and chubby and the second one as their cloths feel too large that often shows that they are wearing their dad's clothes.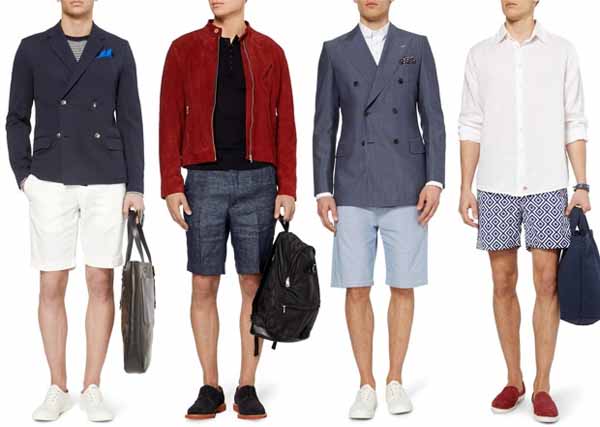 But now all the short men do not have to worry about their height as I am guiding you the way how you can lengthen your shorter frame and your overall proportions through specific dressing. Also will tell you different ways to divert the focus to the areas you want to highlight. It doesn't matter either you are thin, well built or bulky. Your ultimate aim should be appear to lengthen your body and visually extend your outline.
1- Black and white combo or monochromatic hues are the ideal and effective palette for short body type.  And when it combined with classic muted colors like charcoal, olive, brown or oxblood then it will come with productive and timeless result. Point is that the dark colors work together to lengthen and extend your body. Moreover if you are bulky too then dark colors like black or navy blue will help you to look slim. Good part is, both colors are ever green color and never go out of fashion.
2- As bold colors capture the attention of the eyes so if you wear bold colors then wear darker colors on your bottom half and lighter colors on top then it will draw others attention on just your upper side and it will break their attention on what you lack in the leg section.
3- As the shirts with horizontal lining suits the long men to balance their height, similarly the vertical stripe shirts are the close companions for the shorter men because its instant effect of length can be worked effortlessly either you choose shirts with vertical strips or you choose pants.
4- For those who prefer a somewhat more retro style then for shorter men, vintage shirts are good as vintage often feature vertical stripes in their design, you may also wear long floral prints as they work equally and give the same lengthy effect.
5- Another pattern that suits this body type is dip-dye detailing. Predominantly for this summer season, designers create dip-dye effects through the gradual amalgamation of two colors, traditionally utilizing a darker shade at the base and a lighter one for the top. This trend is not just popular currently but this is also an appropriate look for summer that many body shapes can easily adopt it. Moreover, due to the nature of the design it naturally draws the eye upwards that is why it is ideal pattern for men with short body.
6- Avoid larger prints or patterns which are too bold as larger floral prints and color blocked pieces will both widen and break up your vertical shape that must be avoided when you are attempting to stream line.  Wear prints with thin and long floral.
7- You also have some alternatives that are easily available in market like contrast cuffs, linings or shirt collars as these will add a playful alternatives that are easily available on the market, like contrast cuffs, linings or shirt collars. These will add a playful frame to your look without portrayal too much unwanted attention to your shorter size.
8- Another important point is slimmer fits; they always complement this body type best. You can see that comfortable and looser outfit automatically add width instead of tallness, so it is better to wear slightly tapered cut.
9- If you are wearing lighter shades on your top then accessories are a swift and easy way to add a burst of color to your appearance. A plain or printed scarf or tapered tie will bring in life into your look.