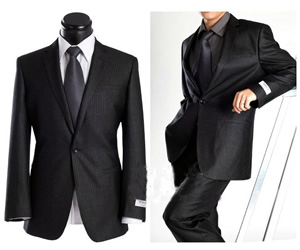 Indeed the anxiety, nervousness and stress is all a part of wedding preparations especially when one's own big day is about to come. It is very commonly related with the brides and they are thought be extremely sensitive and panic-stricken before the big day. But, the truth also lies in the fact that wedding can be a stressful event for the groom as well, it might not be that visible yet, men are way more nervous then women are when it comes to the big day anxieties. Wedding wear is one of the most important selections for the bride and the groom in all the wedding preparations and they need to look the best on their big day. Therefore, here is something in wedding wear which will not only make him stand out but it will be a timeless classic piece for life in his wardrobe too.
Black is the Colour
If you really want to go classic in wedding color then black is the color for the groom. Whether you plan to choose a suit or a tuxedo for your big day, the color black is simply the ideal choice. Moreover, don't forget to keep it classier by teaming your suit in wedding wear with a black tie or your tux with a black bow.
The Fitting
One of the mos crucial aspects of choosing the right wedding wear is the fitting. If the fitting of your wedding wear for the big day is not good then neither you will feel comfortable nor it will look that good at all. Therefore, giving your wedding wear  few tries before the actual big day is not a bad idea, rather, you will be able to figure out the problems and make the adjustments.
The Modern Feel
If you like to try something new and practical for your wedding wear that you can wear later on too then there are a plenty of options too. Grey is one of the latest colors which is getting a lot of attention in wedding wear for men and it has become quite a talk of various magazines and fashion channels. You can have a suit in grey for your big day and later on use it for other formal functions too. Moreover, something that looks wonderful and romantic is matching an item of your wedding wear with the dress, corsage or bridal bouquet of your bride. It always brings out a very personalized and romantic appeal for the big day look through your wedding wear. Normally, many grooms like to match their ties this way.
Hence, the choices are all yours and the options for wedding wear are endless. Make your big day memorable and enjoy its every moment with the woman you love the most.