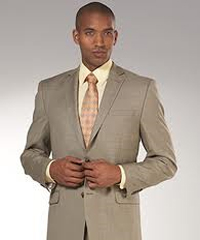 Men's Wearhouse is one of the significant retail brands that have transformed from a modest single store to a global chain over four decades. Their humble beginning and gradual climb up to the success have enriched the quality & variety of men's apparel. Now, a broad range of men's clothing and accessories are available through stores located worldwide. They are also shipped to various places after an online order at their website.
Men's Suits
Men's Wearhouse suits have been their specialty products throughout their existence. You can find the perfect-fit retail and tailored suits for every occasion complementing your body type, height, and preferences. The suits section has been further divided into categories like Linen, Flat Front, Side Vent, Vested Suits, etc. to help you shortlist any particular style you're looking for.
You can further filter the results according to your budget easily. Most of their products lie between the range of $300-$499, but you can find ample designs and options within the range of $100-$299 as well. For your premium outlook, you can enjoy the most elegant Men's Wearhouse suits available for over $500.
For those of you who're conscious about getting the genuine, branded items, the complete catalogue of seasonal collection by Ralph Lauren, Calvin Klein, Kenneth Cole, and other noteworthy fashion houses are also available. Discounts on the selected stocks and several items are given to customers like you throughout the year.
What's best about men clothing provided by Men's Wearhouse is that they have not narrowed down their offering to a certain section of the society. People from all walks of life can find something that befits their style and need!
Men's Fashion
Surely, some of you might be clueless about what color or design is in vogue. With Men's Wearhouse, you don't have to go through the hassle of randomly looking at brands and over-thinking about matching accessories. You can now shop complete 'looks' of the occasion by focusing the event like Job Interview, Business, Wedding, Formal, etc. The search guide would give you 'style options' in men clothing with complete package (including shoes, belt, tie, etc.).
So, check the retailer out for all your needs of formal or casual wear this season. Happy Shopping!