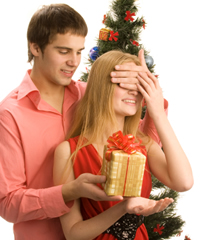 Christmas is the time year, when you share your happiness, love and feelings; it's the time to tell people that how much special they are with gifts and spending moments of togetherness. But when it comes to buy gifts for her, the most special woman in your life, boys are just as confuse as a baby in a topless bar! Read on to select a perfect gift to woo your girl on the Christmas Day.
Warm Cashmere Sweater
This isn't just any sweater, it's a cashmere sweater, I luxuriously soft and classy piece of fabric that will remind her of your love all her life. Choose some classic style in cardigans or V-necks in black, cream or white color for all women don't like cuts and loud colors.
Lingerie
Lingerie is one gift that can either be ultra romantic or something slutty and cheap. So it's very important to select it carefully. Think sensuous and not slutty while buying lingerie for her. Stick with silk, satin and lace robes, camis, baby dolls, slip dresses, bras and panties and always remember if something is too snug or falling off, it might kill the romance that your are trying to achieve.
A Love Story
Books can be very romantic. Novels are lifelong stories that become a part of your existence. And if she is fond of reading novels, give her a love story that becomes a symbol of your love. Quote lines from that novel and make it a story of your life.
Movie Together
Arrange for a romantic night together with dinner and movie. You can increase the spark by preparing her favorite dish with your hand and arrange for her favorite movie. This surprise is far better than any wrapped present and I'm sure it will make her feel like a princess.
Something vintage
Antique stores are full of romantic artifacts, from decorative mirrors to classic vases. Most women love old-fashioned finds, but to personalize it, give her a photo of the two of you in an old-fashioned frame. The fact that it's antique automatically imbues it with amore.
A scrapbook
A scrapbook full of unforgettable memories will make her scream in ecstasy. This is something that she can keep with her for life time. Preserve your special moments and save them for the time when you two will be just sitting in your couch with nothing to do. Just take a look at your scrapbook and it will fill your heart with the vigor and zest of younger days.
Jewelry
All women love jewelry, but not all women love all jewelry. If she doesn't have her ears pierced, steer clear of earrings. If her style is simple and understated, search for simple pearl jewelry to show your affection and sincerity.
To sparkle up the effect of romance, a handmade care will just do wonders and will automatically add the plus points, if you can't make one, you can also buy it from store, but just make sure the inscriptions comes from heart.