These are trying times in the world, and when President Donald Trump and Prime Minister Elizabeth May start fighting over the giant wall on the border and damming the Columbia River, it may be time to consider the alternatives.
[contentblock id=1 img=adsense.png]
Austrian company Migaloo provides an interesting option for those who don't think yachts can cut it: they are offering five designs for semi-submersible private islands.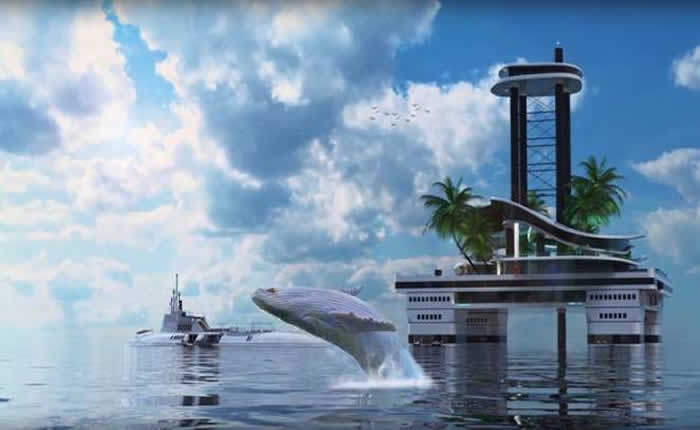 They are sort of a cross between a super yacht and a lair for a Bond villain, and are probably a good option if you are not into Seasteading. According to Australian News, Owners of the island would be treated to 360-degree views within the penthouse, accessible by an 80-metre elevator.
[contentblock id=2 img=adsense.png]
Around the complex, residents would find all the amenities expected on a land-based tropical getaway — including a spa, gym, beauty salons, bar and pool. The inclusion of vertical gardens, palm trees and even a shark-feeding station add more natural elements to the nautical island.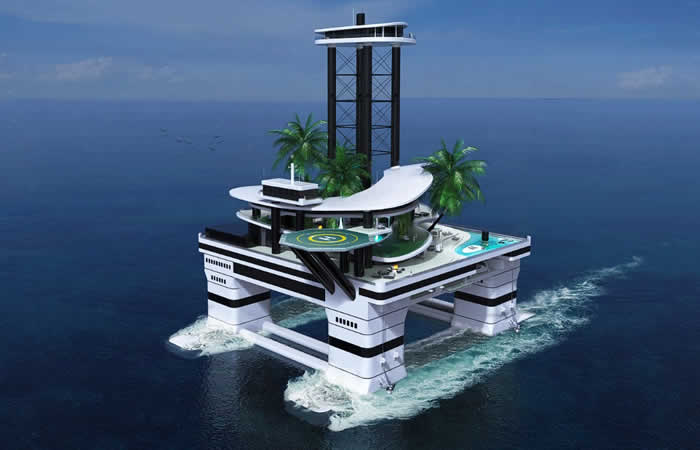 No word on whether it is solar powered or whether the food is organic, or whether the bulbs are LED, but no doubt it can be designed to Tree Hugger correct specifications. After all, it is all custom. According to the managing director Christian Gumpold, We developed an initial design concept to show our ideas and the main design direction.
[contentblock id=3 img=gcb.png]
Our design team needed some months for this, but the actual details in the design — depending on the client's wishes — will be a much longer and intense process. So if you want composting toilets and a vertical farm, they can probably accommodate you. Found on Gizmodo, whose title we cannot repeat here.