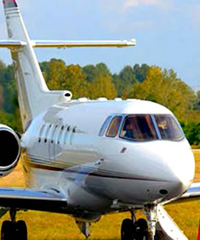 "No Blackout Dates – No Fuel Surcharge – No Hassle"
The Hawker 800/900XP is the most popular mid-size jet in the skies today. A superior aircraft in its class built with the largest cabin space; almost 40% more space than that of its nearest competitor! Nicknamed "the conference room in the sky", the air craft can carry up to eight passengers in a full stand up cabin with range of up 5 ½ hours of flight time.
The Hawker 800 & 900's that the air carriers fly, as well as the crew members that operate them, are ARG/US & Wyvern rated for safety.
| | |
| --- | --- |
| Passenger Capacity | 8 People |
| Cruising Speed | 500 mph |
| Range | 2800 statute miles |
| Length | 21.3 ft. |
| Width | 6.0 ft. |
| Height | 5.8 ft. |
| Baggage Capacity | 45 cubic ft. |