Men's wristwatches say a great deal about them. A wristwatch suggests a man's sense of style and can indicate how he chooses to spend his leisure time. It can also allow a wearer to show off a bit of his personality and accentuate his ensemble in a smart manner. Some men are willing to spend large sums of money to make a statement with their watch, though this is not always necessary, and there are many watches available that deliver accuracy, durability, and style to go along with features that active men appreciate. With that in mind, the top 10 best men's wristwatches are all precise and stylish timepieces, and all of them are available for purchase on eBay from a variety of sellers.
[contentblock id=1 img=adsense.png]
1. Invicta Subaqua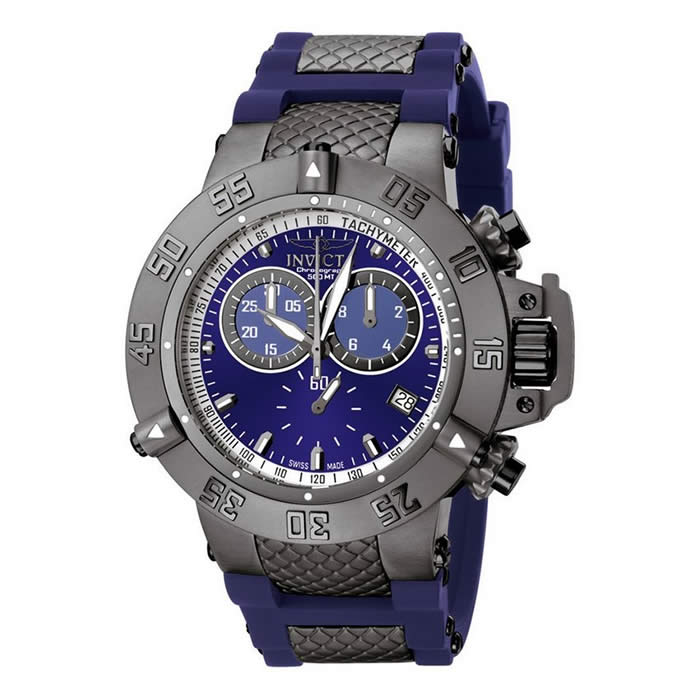 Invicta Subaqua wristwatches serve as a great choice for divers. Made of surgical-grade stainless steel, these watches are very durable and waterproof, with some able to go as far as 500 meters (1,640 feet). The bezel along the periphery rotates in one direction so that if it moves during a dive, the set time underwater becomes shorter rather than longer. This helps to ensure that divers do not harm themselves by spending too much time at too great of a depth. Invicta Subaqua watches also feature Swiss movement for accurate timekeeping, and consumers can choose from many different face colors.
2. Emporio Armani Sportivo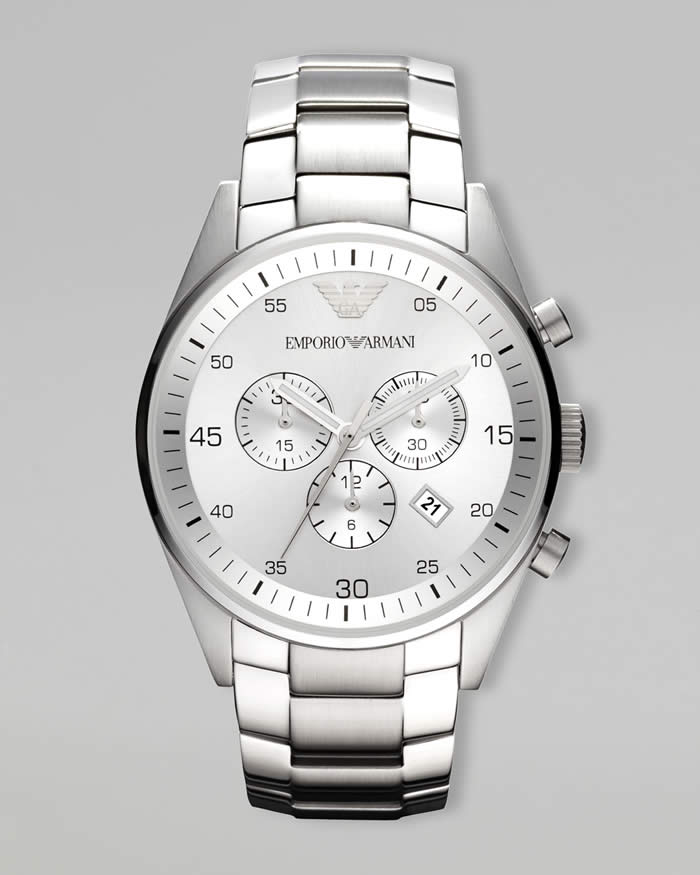 The Emporio Armani Sportivo line successfully blends together sport and fashion, and features vary from model to model. For instance, the watchbands in this line might be made from rubber, metal, silicone-lined metal, or leather. Additionally, most models have a black face, while others have a white, silver, or blue one. Many Emporio Armani Sportivo watches have a chronograph and a tachymeter for timing activities, and the variation in features from model to model enables customers to find the blend of sport and fashion that suits them best.
3. Citizen Flax art & design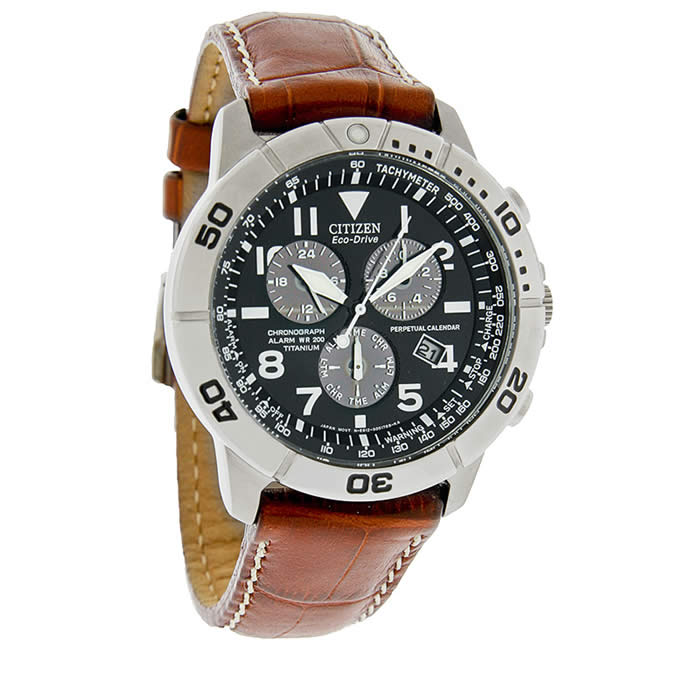 The Citizen Flax art & design men's wristwatch, also known as the Perpetual Calendar Chronograph BL5250-02L, delivers style and performance at a great value. Japanese-quartz movement ensures the accuracy of this timepiece, and its titanium case is durable. Consumers can choose a pigskin leather wristband for a more casual look, or they can choose a titanium one for more formal dress. Its hands and markers have a slight glow to them in low lighting, helping wearers to tell time in dark conditions. In addition, the Citizen Flax art & design displays the date and a calendar, and it is water-resistant up to 200 m.
4. Bulova Marine Star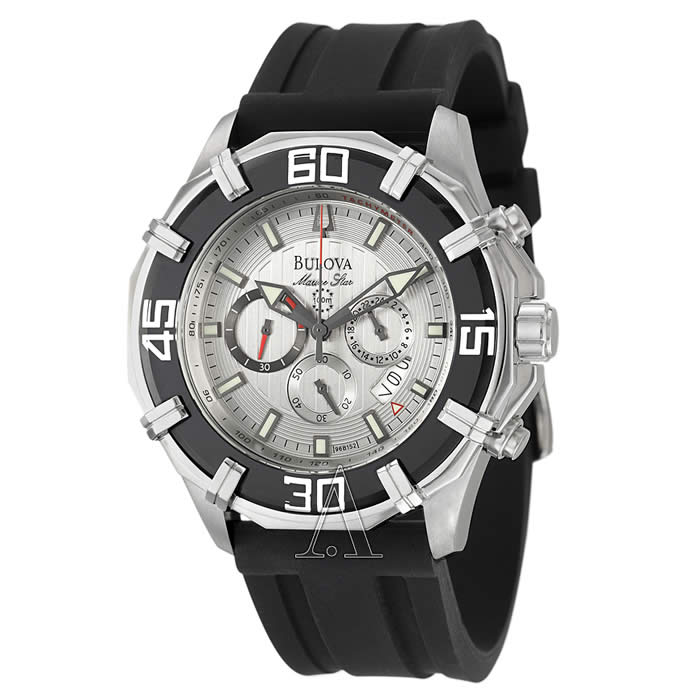 Bulova Marine Star wristwatches are a great choice for men who spend time in and on the water. Models in this line are water resistant up to 200 m, and buyers can choose models with a metal, rubber, or leather wristband. Bulova offers silver, gold, or black ion plating for their metal wristbands for an eye-catching look. Bulova Marine Star models also have a ratchet bezel to enable divers to accurately limit the amount of time they spend at depth.
5. Tissot T-Sport Seastar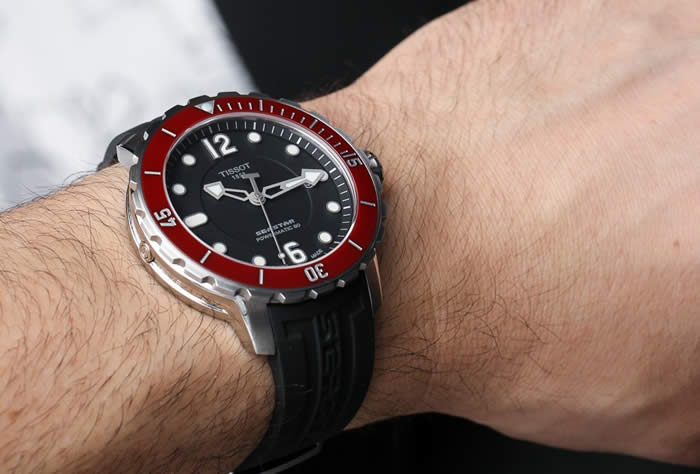 Divers should also consider the Tissot T-Sport Seastar when looking for a wristwatch. This watch looks and performs as well underwater as it does above it. It operates up to a depth of 300 m, it features a unidirectional bezel for setting accurate dive times, and it has a flip-lock diver's buckle on the strap for quick locking and unlocking. Super-LumiNova hands and time markers illuminate in low-light settings, while a helium valve enables wearers to depressurize the watch and Swiss-movement ensures accuracy. Buyers can choose between rubber and metal wristbands and black and blue face colors.
[contentblock id=2 img=adsense.png]
6. Victorinox Swiss Army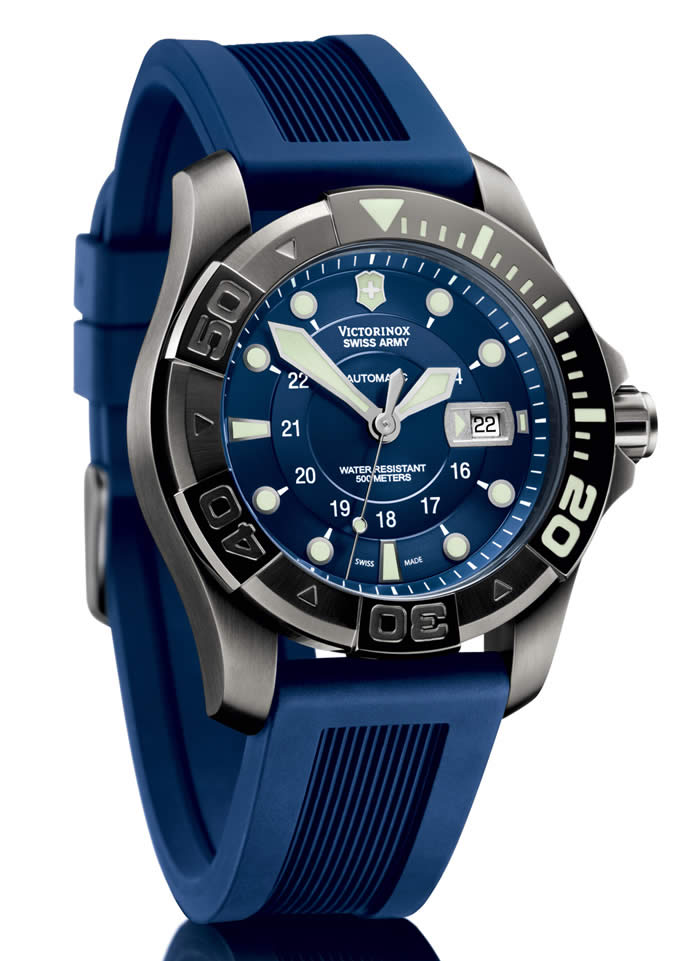 Victorinox might be more famous for its Swiss Army knives, but the company also produces sleek and functional Swiss Army watches. Although features differ from watch to watch, all models provide precise Swiss timekeeping. Consumers can choose from watches with a metal, rubber, or leather band, and the availability of a bezel or a chronograph can make a particular watch especially useful to a sportsman. The Swiss Army watch line varies, making it possible for most men to find a model that suits them.
7. Timex Fly-Back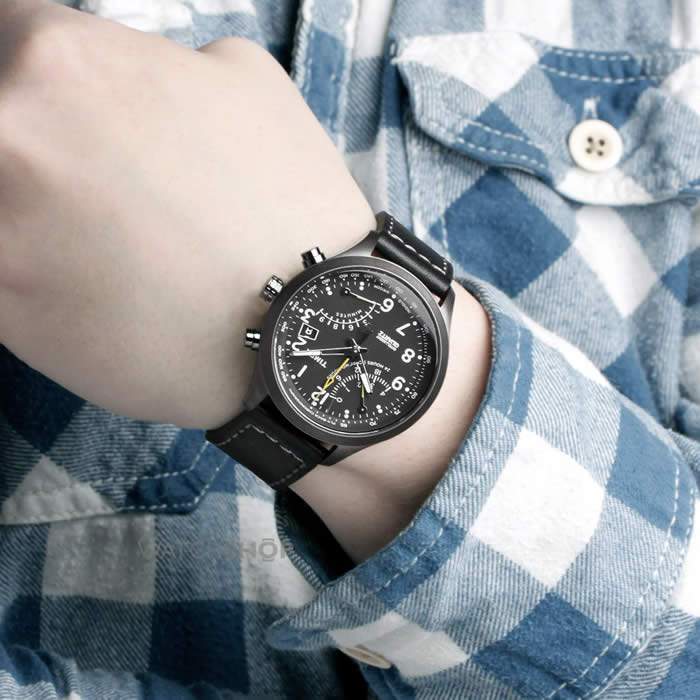 Men who are looking for a good-looking analog sports watch should consider a Timex Fly-Back model. These wristwatches all feature a chronograph for timing athletic activities, which automatically shuts off after four hours. All models in the Fly-Back line use Timex's proprietary quartz technology for accuracy, and frequent travelers should be pleased to know that they can set the time for a second time zone. These watches also have a tough stainless steel case that is water-resistant up to 100 m. Consumers can choose from different wristband styles (including leather), with a few color options and steel. Men who spend time on the water or in the mountains might want to consider the Timex Fly-Back Chrono Compass, as its digital compass helps to ensure accurate orientation at all times.
8. Chase-Durer Special Forces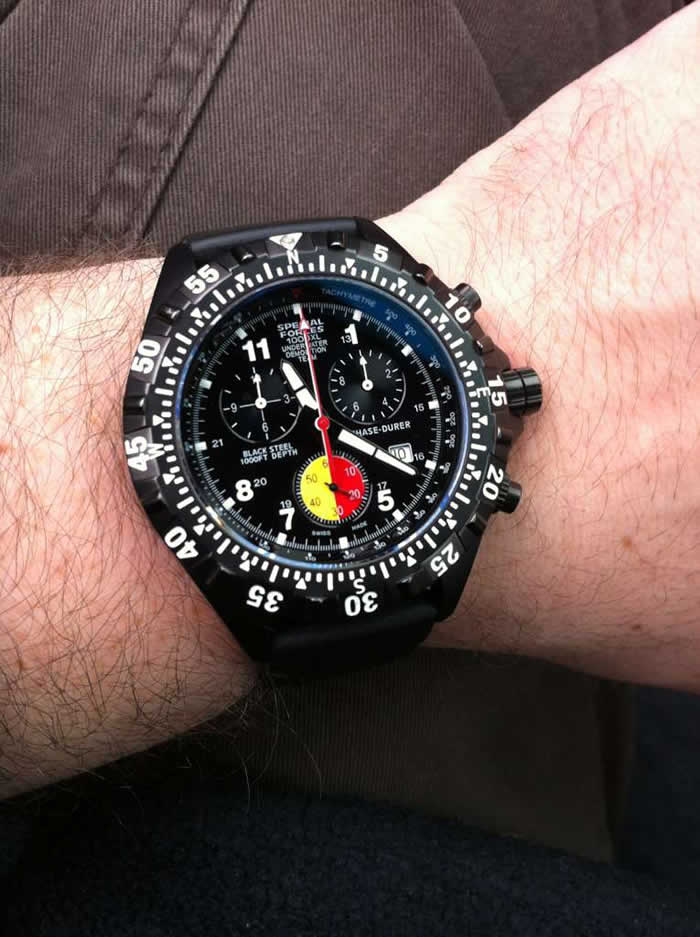 Chase-Durer Special Forces watches deliver accurate timekeeping and outstanding durability. Swiss-made quartz ensures precise time, and scratch-resistant sapphire crystal covers the watch face. Chase-Durer uses the process of physical vapor deposition (PVD) to help the case on the Special Forces resist the elements. This process bonds a thin metal layer to the case, and this layer does not wear off as it protects the watch case. The Chase-Durer Special Forces also has a uni-directional compass bezel and is water-resistant up to 100 m.
9. Hamilton Khaki Field Auto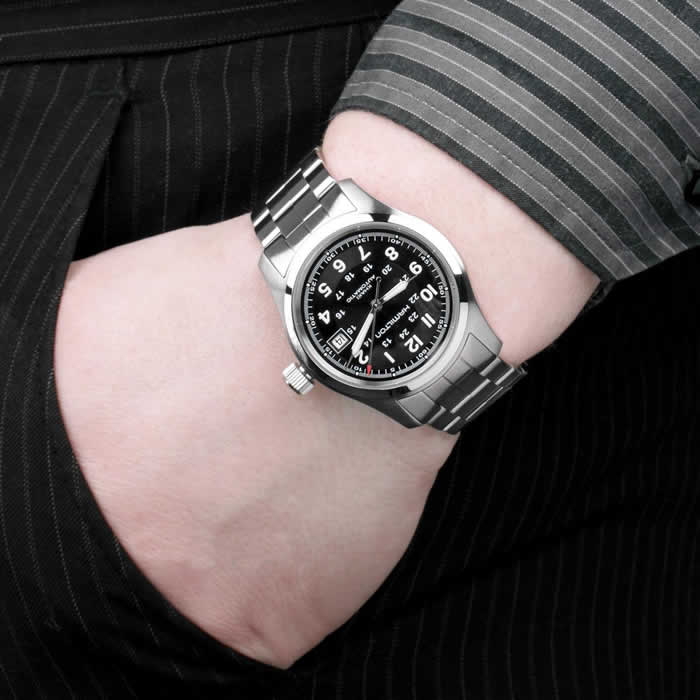 Outdoorsmen who want a sharp-looking watch that masks its toughness should consider a Hamilton Khaki Field Auto. These models have the refined appearance of aviator watches and features that are useful to outdoor pursuits. A stainless steel case with a sapphire crystal cover delivers durability, and a choice of leather or stainless steel for the wristband adds style. Buyers can choose from different case sizes, with 38mm being the smallest and 44mm being the largest. Chrono models feature a chronograph for timing activities, and all models are water-resistant up to 100 m.
[contentblock id=3 img=gcb.png]
10. Bulova Accutron Gemini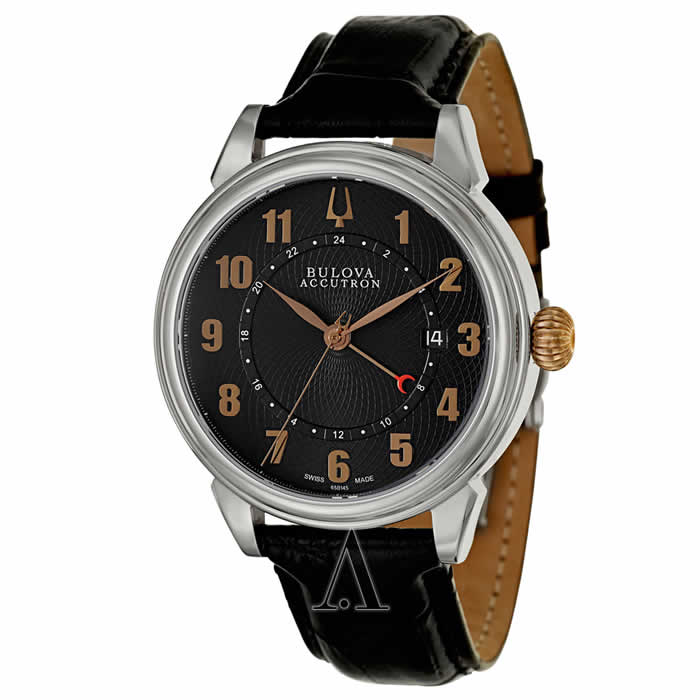 Bulova Accutron watches have a reputation as being among the most accurate in the world. As signs of its accuracy, the company has provided Accutron technology to NASA in putting the first astronaut on the moon and to timekeeping aboard Air Force One. Accutron Gemini watches draw their inspiration from Bulova's collaboration with NASA, and they include automatic chronographs, two independent time zones, Swiss-made quartz, a stainless steel case with a sapphire crystal cover, and water resistance up to 100 m. Consumers can choose from metal or leather wristbands and black, silver, or gold watch faces.