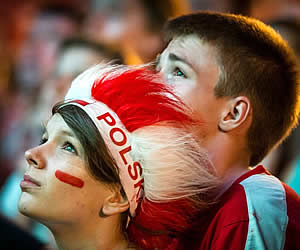 On Easter, Francuszek Smuda Poland's Manager checked phone after leaving church. It was shocking for him to find out through unusual number of missed calls and messages that two of his team players were arrested with allegation of a drunken night in Germany. This wasn't something Smuda was ready to hear, especially when his country was preparing to host European Football Championship in coming weeks. The news surely ruined manager Francuszek Smuda's Easter and he must have thought to kick them out of the squad.
However Francuszek Smuda himself flew to Cologne, Germany to conduct personal investigation. He learnt that when both polish players, Slawomir Peszko and Marcin Wasilewski climbed taxi imperfectly; driver directly landed them into the police station. The end was that Smuda banned Peszko only after his final investigation and Wasilewski managed to escape ban from squad (some say that it happened because he is a better player among two).
This was not an incident unique to Polish soccer, rather it describes them very well: it is silly, amateurish and drunken. The national team of Poland for long had been a national joke.
Poland has improved over years especially if we compare current Poland with what Poland was 20 years ago. You could never imagine a European football championship in this county. 20 years back it was mostly a grey country where people resided in concrete blocks. The concept of restaurants was not what we see today. Hitler and Russian invasion made Poland's history saddest among European nations. In 2001, Jacek Debski, Polish sports minister was shot in head in a restaurant. Besides these more than 300 players, referees and coaches have been involved in match fixing and corruption.
When it comes to football stadiums of Poland, things are not satisfactory, but surely they are better than before. Even when Nation team of Poland is playing, stadiums are rarely full. Yet, Poland has improved a lot; during 2008 recession, Poland was the only European country which did not get any affects where as Ukrain sank into depression. Even in 2010 Russian plane crash (Polish President died along with dozens other government officials), Poland did not destabilize.
European football championship 2012 is supposed to be a happy time for Poland. Though Poland stands at 65th in FIFA ranking but recently they are becoming tough to be defeated. In real Polish tradition, the side only had one true hero in the team; the goalkeeper. Yet they managed to be hard on Portugal and Germany where as they defeated Argentina.
This is the time for Portugal to prove them to the world and leave a positive mark on all those visiting.