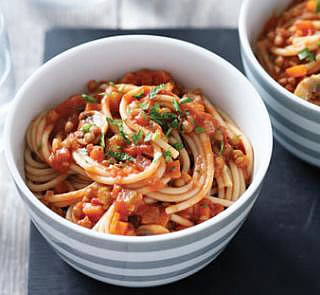 This lentil bolognaise is packed full of vegetables beside the obvious lentils. It's a great vegetarian pantry meal.
Ingredients:
olive oil cooking spray
1 brown onion, finely chopped
1 carrot, finely chopped
2 stalks celery, finely chopped
100g mushrooms, chopped
2 cloves garlic, crushed
2 teaspoons ground cumin
2 x 400g cans chopped tomatoes
1 x 400g can brown lentils, rinsed, drained
400g wholemeal spaghetti
2 tablespoons finely chopped parsley leaves
Method:
1. Heat a large non-stick frying pan over medium heat. Spray with oil. Add onion, carrot and celery. Cook for 5 minutes or until softened.
2. Add mushrooms, garlic and cumin and cook for another 2 minutes. Stir in tomatoes, bring to the boil, reduce heat to low and simmer for 10 minutes. Add lentils. Simmer for a further 5 minutes.
3. Cook spaghetti in a saucepan of boiling water. Drain and return to saucepan. Add lentil sauce and toss to combine. Serve in bowls, topped with parsley.
Source: Healthyfoodguide