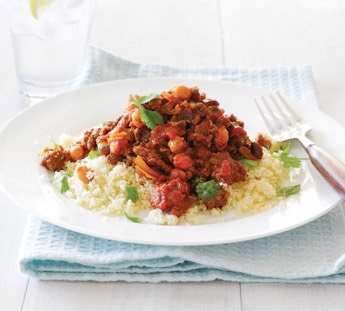 Here is an easy and healthy recipe for the traditional, delicious curried minced meat dish. This healthy food recipe is an extreme makeover dish from South Africa.
Ingredients:
400g lean beef mince
1 onion, finely chopped
2 tablespoons fresh coriander, plus extra 2 tablespoons for garnish
4 teaspoons medium curry paste
2 tablespoons tomato paste
400g can chopped tomatoes with garlic
390g can chickpeas, drained, rinsed
1 cup liquid beef stock (use a beef stock cube mixed with boiling water)
4 tablespoons sultanas
1 1/2 cups couscous
Method:
Step 1 Brown mince in a non-stick pan without added fat. Add onion. Cook to soften.
Step 2 Add remaining ingredients, except couscous, and bring to the boil. Reduce heat and cook for 20 minutes.
Step 3 To cook couscous, place in a large bowl and pour over 2 cups boiling water. Cover. Leave to stand for 5 minutes. Fluff up with a fork. Serve couscous with bobotie and garnish with extra coriander.