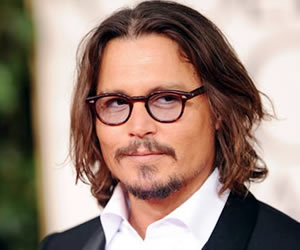 Known for his talent and charisma – film star Johnny Depp is an American actor. Along with being a great actor Johnny Depp is also a successful producer and musician. Working since 80's, actor Johnny Depp has won several awards for his acting and versatility. He is for sure one of the lead names of world's film industry.
Biography of The Great Film Star Johnny Depp:
Born on 9th June, 1963 in Owensboro, Kentucky – Johnny Depp was a rebellious spirit. He took to vandalism and narcotics, dropped out of school at the age of 15 just to materialise his wish of becoming a rock musician. He fronted a series of garage bands, including The Kids.
To Johnny Depp's good luck, his former wife,  Lori Anne Allison took him to Los Angeles and introduced to actor Nicolas Cage who advised him to join film industry. Film star Johnny Depp made his debut in a low budget horror movie – A Nightmare On Elm Street in 1984. Three years later, Depp achieved fame as police cop Tom Hanson in the TV series "21 Jump Street" (1987). It was his innate talent, an urge of getting popularity and appreciation which made him The greatest ever film star Johnny Depp just by 1990.
The film that lifted him to the stature of an emerging film star was Edward Scissorhands(1990), where he played a sad-faced, tragic hero who has scissors for hands. As actor Johnny Depp liked to play dark, sinister characters on screen such as in Donnie Brasco,  Fear and Loathing in Las Vegas,  Ed Wood and Sleepy Hollow. Actor Johnny Depp's performance in Charlie and The Chocolate Factory brought him much appreciation and fame.
Though the success of Edward Scissorhands(1990) brought him popularity, yet the film star Johnny Depp wasn't much famous for many years. He regained his image with the portrayal of the suave, charming Captain Jack Sparrow in Pirates of the Caribbean: The Curse of the Black Pearl (2003). This was the point where actor Johnny Depp became a worldwide famous film star as the enormous success of the film brought along the Oscar nomination for Johnny Depp.
Trademark of The Great Actor Johnny Depp:
Johnny Depp is frequently seen working with director Tim Burton. They both had a good chemistry and contributions to the world's cinema.
Actor Johnny Depp was famous for his prominent, well defined cheekbones and dark intense eyes. The facial structure of this actor – being unique -suited well the sinister characters he usually played. Film star Johnny Depp's distinction is his portrayal of freakishly eccentric outcast characters whose oddities are usually misunderstood by society and usually have a flamboyant appearance and mannerism.
Film star Johnny Depp unfortunately was once accused of selling drugs in his own club. This episode brought him under bad public scrutiny. The great actor has also been arrested twice for different reasons.
Beside his acting career, Johnny Depp is a good guitarist. Currently he plays in a band called P. Johnny Depp is one of the top 20 entertainers of 2001. His fans are quite passionate and possessive about him. The great actor Johnny Depp still rules and is contributing to the Hollywood cinema.