Pregnant Kourtney Kardashian carries large salad as she shows off her growing baby bump in tight black mini dress on trip to work. She's showing no signs of slowing down as she awaits the birth of her third child. It was business as usual for Kourtney Kardashian as she headed to a Los Angeles recording studio to voice segments for her family's hit reality show Keeping Up With The Kardashians on Thursday.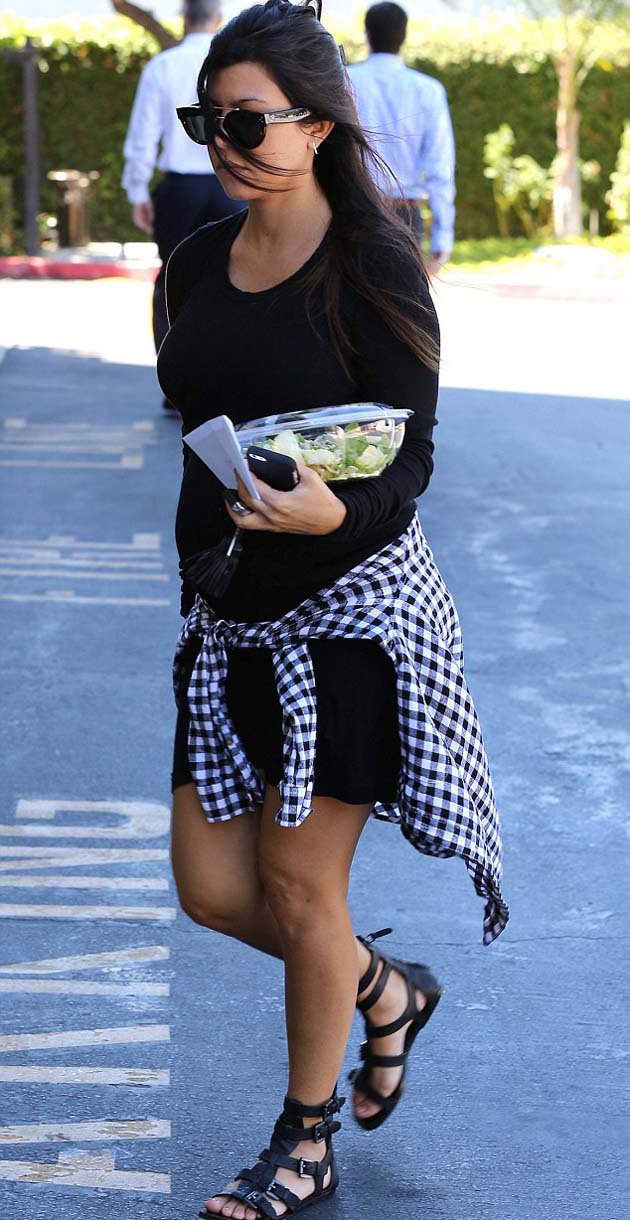 For her day at work, the 35-year-old wore a form-fitting black mini dress, which hugged her growing baby bump. To complement the long-sleeved dress, she tied a checked shirt tied around her waist, adding a summery touch with a pair of black gladiator sandals. The older sister of Kim and Khloe had her voluminous dark hair tied back as she protected her eyes behind a pair of black sunglasses. And, to stave off any likely cravings, the TV star was seen carrying a fresh salad as she made her way into the studio.

In a recently released preview of an upcoming episode of Keeping Up With The Kardahsians, Kourtney is seen shocking her partner Scott Disick as she reveals to him that she's pregnat for the third time. In the 33-second clip, Scott walks in on Kourtney sitting in her children's walk-in closet. 'What shaking in here?' Scott, 31, curiously enquires. Packing for Poushka,' Kourtney responds, likely referring to their two-year-old daughter, Penelope. The couple also share a son, Mason, four.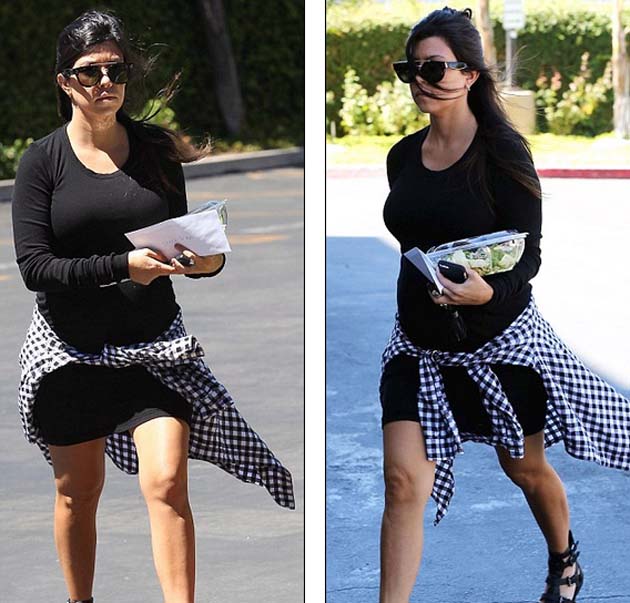 Kourtney then asks Scott to close the door, before saying: 'I just wanted to tell you that I am pregnant.' Ominous music plays, and Scott is so shocked he can't even form any words. Away from cameras, Scott appears to be in admiration of his partner's work ethic, recently telling People: 'Kourtney's great. She'll [keep running around] until that kid pops out of her.'