Kendall Jenner looks leggy in leather as she heads to a NYC casting call in monochromatic ensemble. Her life may appear to be an endless string of glitzy events but Kendall Jenner still has a day job to tend to. The slender 18-year-old traipsed the streets of Soho, New York on Wednesday clutching her modeling portfolio.
[contentblock id=1 img=adsense.png]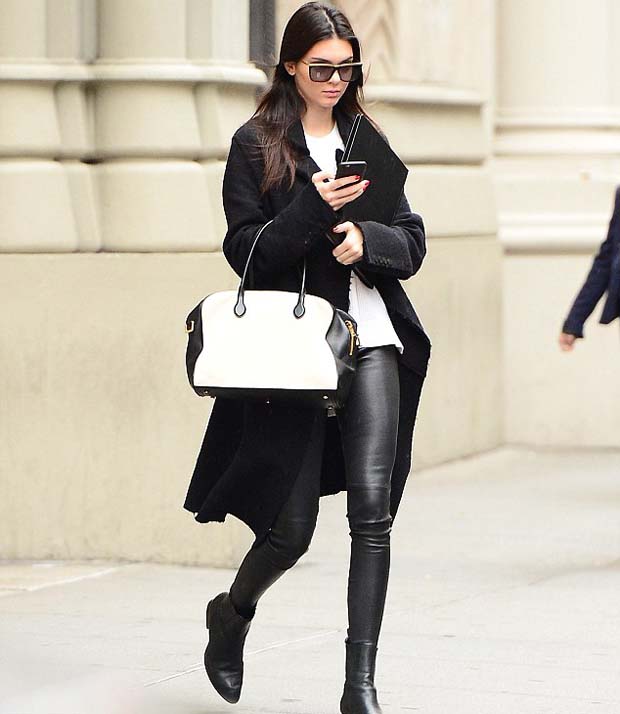 Clad in a chic black and white ensemble, the teen – who has graced the catwalk for several high-fashion designers in recent months – was likely hoping for her next exciting booking. She donned black leather leggings, a white knit jumper and ankle boots with a chunky heel. Her chestnut locks looked freshly blow-dried and her face appeared barely made-up, however she hid behind stylish gold-trimmed sunglasses.
[contentblock id=2 img=adsense.png]
The Keeping Up With The Kardashians star appeared to multitask with her phone in one manicured hand and her black binder in the other. Completing her look, Kendall wrapped up in a black wintery overcoat and carried a bowler style black and white handbag.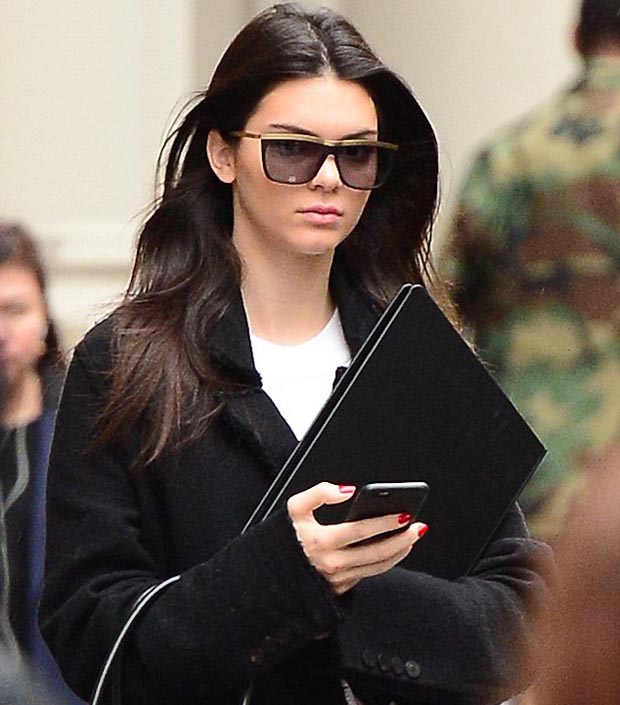 The reality star has been spending some quality time with fellow model girlfriends Gigi Hadid, 19, and Hailey Baldwin, 17, of late. On Tuesday Kendall and niece of actor Alec Baldwin went apple picking outside Manhattan with the duo documenting their escapades on Instagram.
[contentblock id=3 img=gcb.png]
And later on she enjoyed a girly gathering with Gigi and Brit model Cara Delevingne as they larked around wearing silly head wear. In a black and white shot Kendall posted to Instagram she captioned: 'We had a hat party last night.' Kendall has had an exceptionally successful season following turns walking for Chanel, Marc Jacobs, Givenchy, Balmain, Dolce & Gabbana and Fendi, among many others. The reality star may have even landed herself one of the biggest modelling contracts in the world.