Body as sleek and shiny as gold and just the right amount curves together with haute brown/gold hair gives you the perfect Swedish beauty, Frida Gustavsson. Born in 1993, this youngster model ranks 17th on the top 50 Models Women.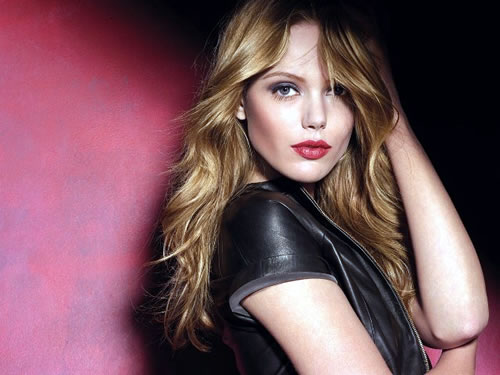 She began modeling locally in 2008 and flew to Japan from there further strengthening her modeling career. She became the opening model to the haute couture show for Fall Valentino in Paris and since then she has catwalked for worldwide famous brands such as Louis Vuitton, Chanel, Lanvin, Fendi, Christian Dior, Anna Sui and many more. Not only this but the model fits so perfectly in any dress whether long or short, so perfectly that she became the most wanted or rather requested model for Spring 2010 fashion shows and was also one of the top models at the Victoria's Secret fashion shows in 2012.
Not only this but Frida has appeared in many commercials for Marc Jacobs, Anna Sui, H&M, Zara and many other renowned brand names quite frequently and hopes to further progress in the fashion industry as a stylist in product and pattern designing.
Frida Gustavsson has quite a few times flaunted the two moon shaped scars on her knees that she claims are the remains of a fall in a relay race championship – indicates that the hotty is not only in action on the ramp walk but is also a great sports fan. No wonder she is so fit.
Frida has many a times taken courses of correspondence for a special sewing class and sometimes make coats etc for herself because she claims it is difficult most of the times to find clothes her size. The model has also recently signed a contract with Maybelline New York which makes her the new brand ambassador for the top cosmetics brand 2013.
Frida herself never travels without her moleskin notebook and Polaroid camera that she bought in Tokyo. Her notebook is mostly filled with drawings; recipes and she mostly take photos of attractive landscapes in her free time when she's out and about. She is quite a mysterious young woman because even though her blackberry and Mac Book are full of stickers indicating her love for this girly "stickers" addiction, she mostly dresses like a man – black cigarette pants and an oversized white shirt with man shoes. She keeps the same outfit at night but pairs it with high heel boots and some big fancy jewelery.
Men, this is one mysteriously hot chick you ought to discover. Check out some of her beautiful pictures gallery at model.com.
Fun Facts:
Mostly listens to Pink Floyd
Loves stickers
Crazy about oils – hair, body, all sorts.
Wanted to be a pilot