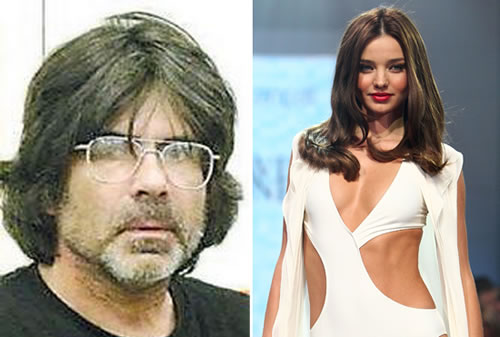 Steven C. Swanson from Sandwich, Massachusetts has been arrested for allegedly threatening to fly to Los Angeles to kill Miranda Kerr. A man has been arrested for threatening to kill Miranda Kerr. Steven C. Swanson entered a not guilty plea in court on Wednesday (19.06.13) in relation to claims he rang police in Los Angeles and told them he planned to travel there next month in order to kill the Australian model, who he called his "soul mate".
The 52 year old – who lives in Sandwich, Massachusetts – reportedly suffers from bipolar disorder and schizophrenia and had been off his medication since March, according to capecodonline.com. At his home, police found photographs of Miranda on his refrigerator, microwave and bookshelf.
After he told police he planned to take two .45-caliber handguns to Los Angeles, Mr. Swanson was arrested on the charge of making a threat concerning a firearm, even though none were found in his house. Prosecutor Danielle Horgan requested $8,000 cash bail while Elizabeth Kliber, Swanson's court-appointed attorney, said her client denies the allegations.
Miranda married Orlando Bloom in 2010 and gave birth to their son Flynn in 2011. – Femalefirst