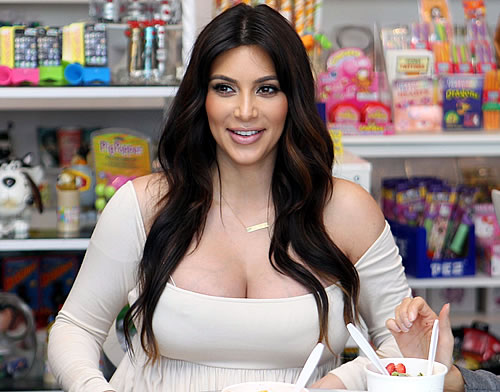 Kim Kardashian won't allow her baby's birth to be filmed. The reality TV star is said to be refusing to let cameras for her 'Keeping Up with the Kardashians' show into the delivery room on her big day next month, a stark contrast to her older sister Kourtney, who was seen giving birth to her daughter, Penelope, on the season seven finale of the show.
A source told media: "Producers want Kim to do the same as Kourtney. It would be a ratings dream and reality television gold. But Kim is refusing it. She doesn't want her fans to see her in that situation… In the birthing suite." Kim, 32, and her rapper boyfriend Kanye West are very protective of their unborn daughter and said to be refusing any suggestion of the baby appearing on the family's E! Entertainment show, despite her mother-turned-manager Kris Jenner's pleas.
The insider added: "Kim is very serious about her pledge. She has said, multiple times, that the baby will not be part of the Kardashian reality-television empire." Kim embarked on an online rant last week, slamming the paparazzi's ruthless antics and desperation to get shots of her baby bump.
She wrote on Twitter: "I wouldn't let the paps get a pic of me today & they threatened my life & said if I continue to block shots then they will make my world dangerous to live in! "How dare they threaten my life & my unborn child! This has gotten way out of control (sic)!" Meanwhile, Kim's ex-husband Kris Humphries – to whom she was married for just 72 days after a whirlwind romance and televised wedding – was spotted celebrating their newly-granted divorce with a slap up meal.
According to the New York Post, the basketball player tucked into a spread of chicken meatballs, spicy ribs, tuna, Brussels sprouts, shishito peppers, sweet potato and Japanese eggplant while downing shots of Tequila in Miami this weekend. – Femalefirst