She is known to often show off her bra in sheer tops. But Kim Kardashian went the whole box and dice when she flashed both her brassiere and underpants in a grey lace shift dress in New York on Tuesday.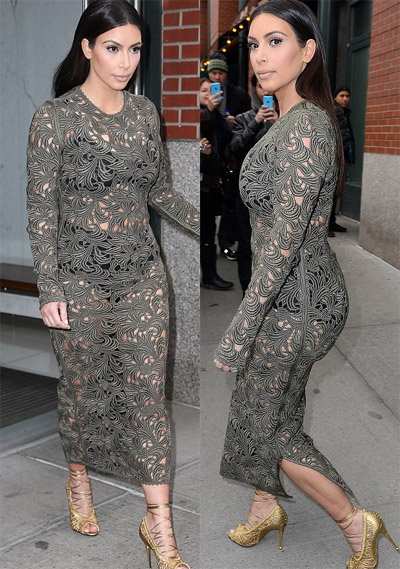 However, the 33-year-old reality star's lingerie was not as sexy as one might think she would wear, as she proudly flaunted a pair of high-waisted Bridget Jones-style underpants. Kim Kardashian let her daring dress do all of the talking by teaming the attire with just once accessory, a pair of glamorous gold strappy heels. Her raven locks were coiffed in a straight style, out, and tucked behind her ears. The mother-of-one wore her signature smokey eye and nude lip combination for makeup, as well as a heavily application of powder on her complexion.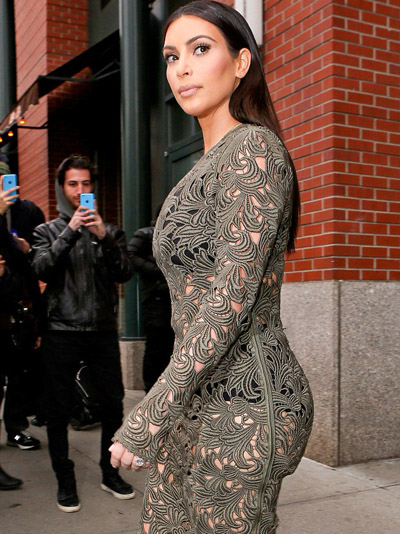 Kim Kardashian racy dress was all for a television appearance as she was set to appear on the Late Night With Seth Meyers Show. She tweeted her excitement over the interview, writing: 'Getting ready for latenightseth! Tune into NBC tonight!' Earlier in the day, Kim was a lot more covered up in a casual ensemble. She put her trimmed down figure on display in super-tight grey jeans, a grey T-shirt and black leather jacket which further complimented her curves.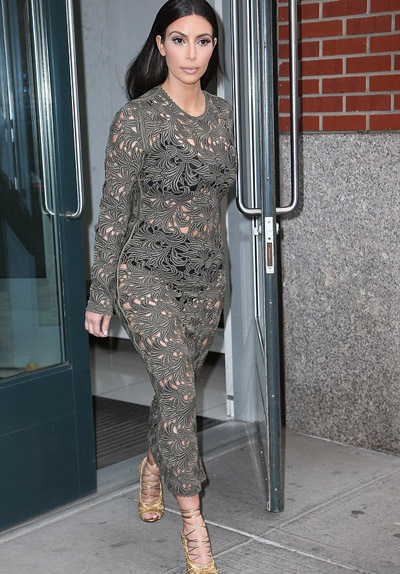 Adding to the picture were white high-heeled pumps, her glossy, layered hairdo and of course the huge, sparkling diamond engagement ring on her left hand. She donned a pair of dark shades as she arrived at her Greenwich Village hotel with her fiance Kanye West. Earlier in the day she was chauffeured in a black SUV to Cipriani restaurant and ushered into the eatery by a helpful staffer. Kim Kardashian was wearing the same outfit as she touched down at New York's JFK Airport on Monday with her rapper beau.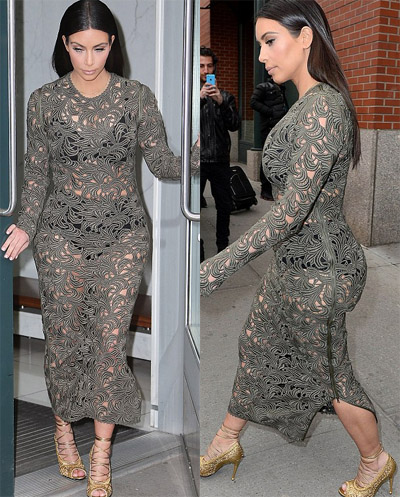 Everything from the perfect hairstyle, the grey top and jeans and the tailored leather jacket were the same, and she even wore the same white heels. Kim Kardashian who gave birth to her and Kanye's daughter North in June, has been determined to shed the last of the post-pregnancy pounds. Regular workouts and watching what she eats have helped Kim to turn her shapely figure around. Kim and Kanye became the most talked about couple by posing on the cover of Vogue's April issue. The cover girl is seen wearing an off-white, strapless gown while Kanye is standing behind her with his arms gently wrapped around her figure.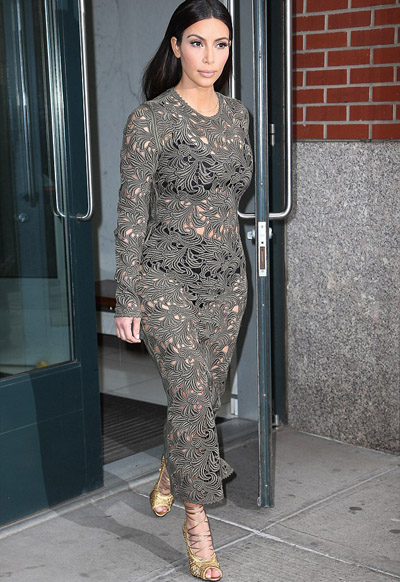 A few jokes ensued last week with James Franco and Seth Rogen creating their own Vogue cover by super-imposing their faces on Kim Kardashianand Kanye's figures, and actress Sarah Michelle Gellar tweeting that she was going to cancel her magazine subscription. On Tuesday, Kim's half sisters Kylie and Kendall Jenner also spoofed the cover by super-imposing their faces onto the power couple's bodies. Meanwhile.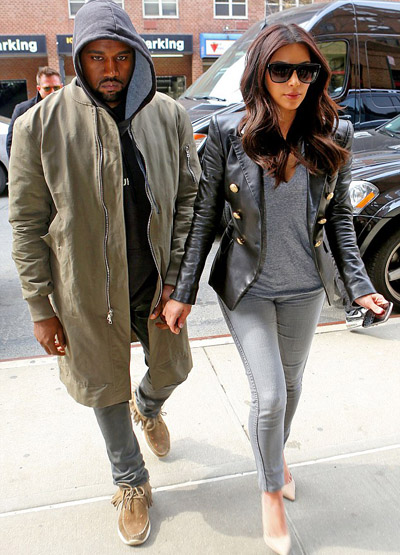 Kim's sister Kourtney defended her sister and the rapper during a Monday appearance on Good Morning America. 'I haven't seen any reaction. I've literally been unpacking. I don't hear about any news. I'm kind of the last to hear anything,' Kourtney insisted, adding: 'But I posted it on my Instagram and saw amazing responds and stuff and I'm so happy for her.' -Daily mail