She has been widely cited as the new Kate Moss, but model of the moment Cara Delevingne felt like she needed to make a more obvious comparison on Tuesday night. Posing alongside a campaign image for her new Topshop collection 21-year-old Cara showed she had the pins and the poise as she imitated Kate's pose on a stool, whilst placing a hand on her neck.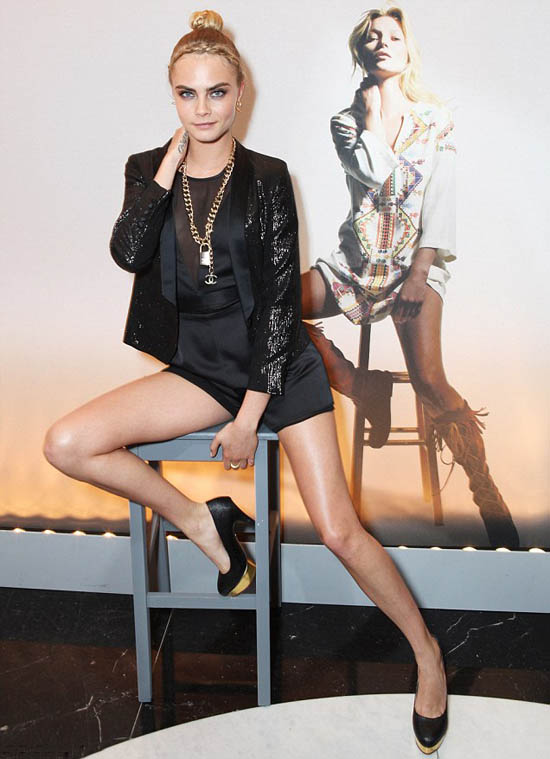 Ever the quirky model, Cara Delevingne larked around with fellow Burberry model Suki Waterhouse at the private dinner hosted at the Connaught hotel to celebrate the international launch of Kate Moss collection for Topshop. Dressed in a black sheer playsuit and glittering sequin blazer, Cara Delevingne looked every inch the supermodel and she showed off her slim pins in gold platformed heels whilst poised on a stool.
As well as being close friends, Cara Delevingne previously admitted that Croydon born model Kate Moss often gives her advice on how to deal with the pressures of fame, the chisel-cheeked blondes have also worked together. The pair recently revealed they will both be starring in the campaign for the new Burberry fragrance. It was a busy evening for the in demand model, as it was the second stop of the night on her social circuit. Starting the evening at the launch party of TV movie Timeless in London – which features the 21-year-old making her television acting debut, she arrived in a different outfit of super-tight leather-look jeans, peep-toe shoe boots, black blazer and a cropped T-shirt.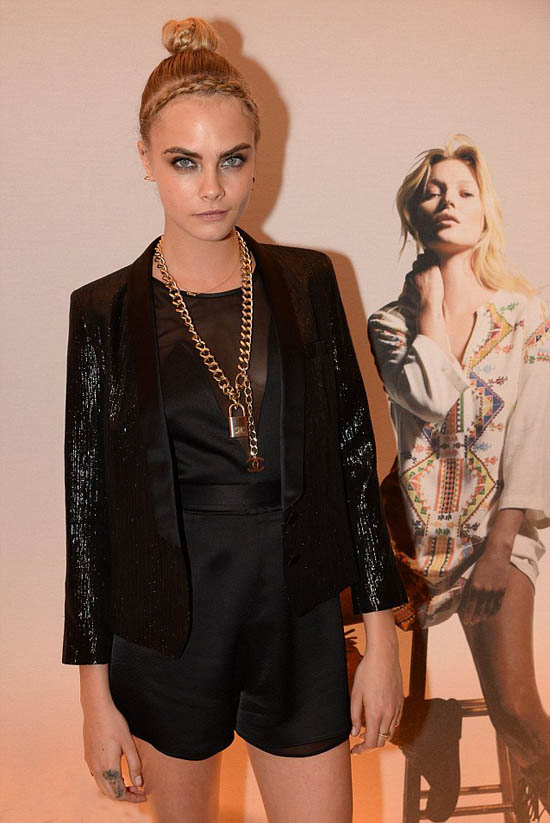 Cara Delevingne was the main attraction at the launch of Timeless, a new Sky Arts Playhouse Presents production, at the Courthouse Hotel in central London. The model, who has made no secret of her wish to have a career away from the catwalk, plays a young woman whose fiancé is serving in Afghanistan in the new one-off drama. Cara Delevingne said in a video series by Nowness ahead of the launch of Kate Moss collection: 'I was never into fashion that much when I was a kid, ever! I was such a tomboy but Kate Moss, I just knew exactly who she was, of course.'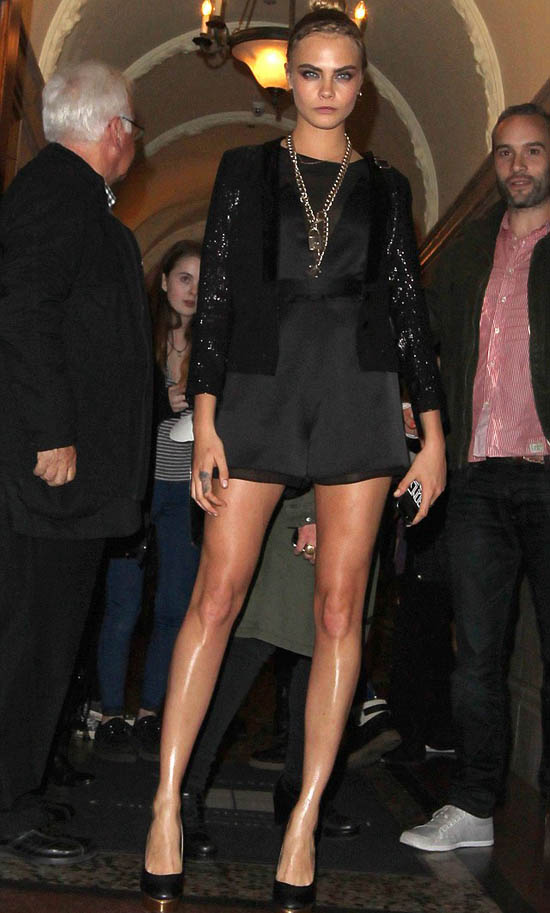 Adding her admiration for the model and friend: 'She was the face, she was the icon.' Speaking about Kate Moss collaboration with the store, Cara Delevingne who has modelled for Topshop herself, said: 'As soon as I heard that she was working with Topshop, I knew it was perfect.' Continuing: 'London brand and London girl – THE London girl – coming together. I knew she'd bring something to make it "her". 'Everyone wanted to dress like Kate Moss and she bought that to the collection and has let everyone have that style that she has, which is just incredible' Cara recalled in the video. -dailymail