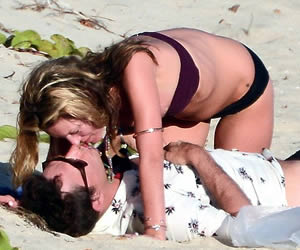 She may have tied the knot to rocker Jamie Hince in 2011 but the honeymoon period is definitely not over between this pair. Kate Moss couldn't keep her hands off her The Kills guitarist as they rolled around on a nudist beach in St Barts on Tuesday. The 38-year-old looked beach perfect as she moved in to passionately kiss her husband who was making the most of the sun.
Jamie, 44, couldn't keep his hands off his playful wife as he pulled her nearer and gave her a romantic hug before playfully rolling over into the sand. Kate Moss will no doubt set tongues wagging as to whether she is expecting another child after sporting a rounder tum while holidaying in St Barts on Tuesday. The Croydon-born supermodel seemed to have a much curvier middle than usual, with the tiniest hit of a bump visible as she turned to the side.
And whether it was the picturesque Caribbean surroundings or the warm weather, there was no doubt the Croydon-born beauty was positively glowing as she soaked up the sun with her man. Jamie looked even more enamoured with his gorgeous girl than usual, bending down to give her a tender kiss on the tummy as the couple kicked back and relaxed on the perfect white sands. Seeming more in love than ever, the pair put on an extremely amorous display as they enjoyed a spot of alone time together.
Kissing The Kills rocker passionately, Kate showered Jamie with affection before fully smothering him with her body. And Jamie certainly responded with the desired enthusiasm, grabbing his wife's toned bottom as they kissed and cuddled for all to see. After their extremely amorous display, the loved-up couple took themselves off to the sea, cooling off as the ocean waves hit them. Kate bowed down as she let the cool water hit her, before standing up to reveal her supermodel figure in all its glory in a tiny maroon and black bandeau bikini.
The couple looked as though they were having a blast as they chatted away and giggled at each other. But playful Kate soon took things a step further, grabbing her beau by the shoulders and straddling him as she pushed him to the ground. Although the mother-of-one cut a stylish figure as she lapped up the waves, Jamie made sure to play the fool, appearing to fall over as they paddled to the sea. But Kate's cool and calm exterior didn't last for long. – Dailymail