2015 Mercedes s Class Guard Armored Car
For customers who have money and status , the need to own a luxury car and ensure "safe " for them is a critical need. Understanding this need , Mercedes – Benz has started the production of bulletproof vehicles product line of its latest Mercedes -Benz S – Class Guard in 2015 .
The product line manufacturing bulletproof special place a year after the line Mercedes – Benz S – Class is usually put into production . The production of bullet-proof vehicles to the Mercedes-Benz S – Class Guard 2015 will be made at its plants located in Sindelfingen.

In addition to Mercedes – Benz S – Class Guard in 2015 , the German luxury brand is also produced luxury cars such as Mercedes – Benz S – Class Pullman , bullet resistant variants of other models such as the E – Class Guard , M – Class and G – Class Guard Guard . The bulletproof luxury vehicles from Mercedes – Benz is still classified at level 9 and 10 bulletproof ability .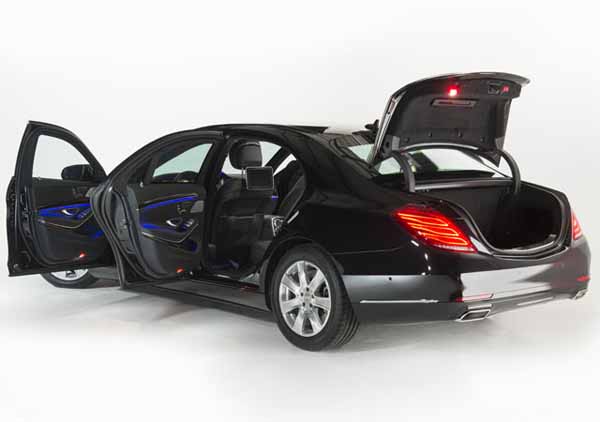 Talk about luxury products bulletproof latest Mercedes – Benz S – Class Guard will be equipped with the " armor " bulletproof bulletproof level VR6 / VR7 . This means that the car has the ability to withstand weapon speed moving twice as fast as the speed of the bullet pistols revolvers . Besides car will easily protect passengers inside out piece grenade or similar explosive.

On car windows , Mercedes – Benz S – Class Guard 2015 windshield 10cm and weighs 135kg . Meanwhile , underneath the jacket surrounding the cockpit and passenger compartment are equipped with 5cm thick layer of hardened steel. Being bulletproof armored vehicle so of course will " gain weight " significantly original model . Therefore, the vehicle's suspension system will be adjusted to suit the weight that it should download , wheels and tires will be replaced . The engine of the car will definitely stronger , but it details how Mercedes-Benz is not yet revealed .


German carmaker Mercedes – Benz said S – Class Guard 2015 current version even S600 Guard , the Guard upgraded S600 to S600 car price increase will make € 200,000 , or $ 267,700 compared to the original sample S600.

Source: autopro