Swanky Men's hats in winter are one of those trends that the ever growing fashion world has offered to men to make them chic and hip. Any swanky hat worn on head that compliments your style and persona adds glamor to your personality.
Men head toppers are that essential accessory for styling  in winter without which one feels something missing and lost and that why not! Because hats serve many purposes for you.
On one side, hats protect your head from severe weather conditions providing you warmth and shelter. On other side, it enhances your look and makes flawless style statement for your disposition. Also, with a hat on your hair, you don't need to get a hair cut or spending time to spike your hair. So, leave your hair on their own and go for stylish and trendy hats in market as hats are in fashion to grab.
Tips to select Hats:
Before selecting hat for your head, have a glance at your face cut and then decide appropriate hat design that will suit your face best.
A hat has four major parts i.e. crown, brim, bill and hat band. A crown is the top portion of your head and raises to certain height. A wide crown gives slim face a wide look and a narrow crown makes wide face look slim. This is what you should look for!
Types of Hats:
Four chief types of hats in market are fedora, newsboy, bucket and trilby.
Fedora hats
This is the popular type of hat that all age men can wear either for business or for casual. Fedoras goes well with your all sets of clothing as it is designed length wise down the crown.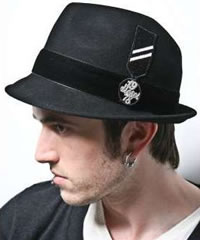 Newsboy hats
This hat has rounded or oval shaped bills and has a button placed in center of the top portion of the hat. It is usually worn by newspaper delivery man.
Bucket hat
This hat is worn to protect face from sun dust or wind. it is not functional for party occasions.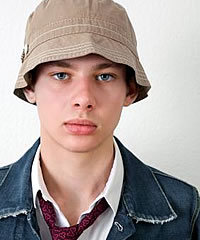 Trilby hat
This hat is similar to fedoras but with shorter brims and are worn casually.
Hats give your face a sharp and elegant look in any way they are put on head and make you look exclusive and swanky on cold winter days.