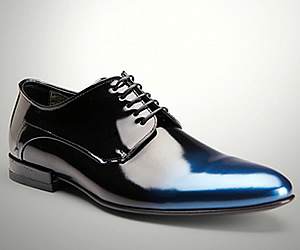 Who doesn't know about what is Hugo Boss famous for? If you don't know then you should know that Hugo Boss is one of those brands who make finest suits in the world. Hugo Boss has now started its new product which is the men's shoes. Like Hugo boss suits, its men's shoes are also one of its own kinds in quality and classic look.
In men's shoes by Hugo Boss there is little twist in its classic look. The thing that differentiates Hugo Boss men's shoes from all other shoes in market is the faded Royal blue color on a shiny leather shoe toe. This is the first ever men shoe which is made this way. You can get this star men shoe by Hugo Boss in only 395$. Its style and brand name absolutely justifies its price.
This brilliant men shoe can be best worn with the plain suit. The shiny part of this shoe is enough to complement the suit it is worn with but the tinge of royal blue color at the toe of this shoe has just marvelously increased the grace and elegance of this men shoes. Royal blue color is not over done in this shoe; it complements the other half of the shoes without being dominant. It has the quality of attracting its deserving customers to itself through its style and chic. Whenever a man first time grasps this shoe the first thing that comes to his mind is "wow". This is the shoe which you can never resist because of its uniqueness. If this is not all then for more motivation drives, gaze at the style icons like Lenny Kravitz Maxwell how they have pulled this off.
This is the fashionable shoe but its longevity is limited. These are not the shoes which you can pull off on the daily basis to your work place. If you will wear it in a moderate manner then these shoes will last longer. That doesn't mean that Hugo Boss has compromised on quality of its men's shoes. The lining of Hugo Boss men shoes is totally calfskin which gives comfort to feet while exterior of this shoe is made with goat leather which is the finest and most durable leather moreover the upper textile is made of cow skin. If you are person who keeps eye on unique fashion then these are the shoes made for you.