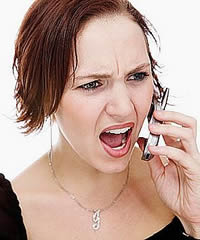 Perturbing soul mate may be man's intentional or unintentional activity yet whatever it is it causes pain to a woman both at heart and mind. Relationships face edge when man uses hurtful words that perturb his wife or love lady.
Ego is the root cause that destroys every relation and the frequent victim of egoistic behavior is man. Though it is not preplanned by man's side to perturb her wife but it mostly results annoying and perturbing a woman that she even thinks at extreme about existing relationship with man.
Hurtful words act like dagger piercing heart and soul of both man and woman. They are unable to overcome such vicious words through any compensation or penalty but with forgetful nature of man, he is sometimes less affected as that a woman. So, when the issue is about distressing a woman with hurtful words she is always perturbed as an Indian proverb also says: "man never remembers and woman never forgets", it goes on perturbing her at extreme level.
That's why avoiding hurtful words on your wife or love lady is the key to successful marriage or intimate relationship that needs some considerations:
Very first key to avoid hurtful words is by giving value to your marriage. When you adore your marriage then in turn you will adore your wife and would safeguard your actions and words.
Obviously, being human is above every relationship so try value your pal through words. Even if you are too busy at work or have perturbed her through hurtful words, try to pretend her most valuable person in your life by apologizing and loving her. This very tip will surely reduce her worries and make her feel valued.
This is the only key to be good human being that leads you to be good husband. When you admit your faults it really avoids perturbing your love lady and soothes hurtful words.
Before sparking out any hurtful word remember that your hurtful words may perturb her intensely.