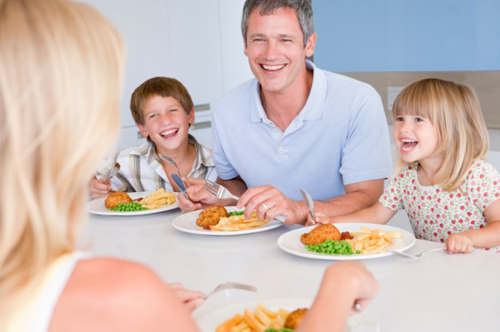 Most of us don't get to spend a time with our family, due o such fast paced, hectic lives and some other unexpected problems, especially when it comes to eating leisurely family meals.
But it's a reality that to have family meal  might be a great option to release a great stress, after all, s meal at the dinner table will not only jut give us time o reconnect with our family members but also it help to make you calm and relax.
A family meal is great option too get the whole family involved together, as when your elder cook meals at home so mix love, their affection in that meal so as with the intention of meal becomes more pleasant, and it makes and enhance the compatibility among family members. Here are some benefits that we avail by family meal:
Family meal gives us a chance or a possibility to having a good bonding, to plan occasion and to connect and to learn from another. On table we can share certain information, experience and parents can teach their kids' manner that how should to behave on dinning table. Family meals foster warmth, security and love as well as feeling of belonging; it might be a unifying experience for all.
Family meal is the perfect order and a suitable place top show an appropriate manner and etiquette and other social skills. It makes a person relax and loving and also keep one's mood pleasant.
A family meal encourage the kids to enhance their will power and to change according the coercing, and parents also encourage their kids to try new one after one, without giving any stress, It expands  the knowledge and experience and skill.
 Family meal is usually much more fill with nutritious and healthy. It contains more fiber, calcium, Vitamins A and C. In short, when dined with your family it offers you lot o god nutrient and best strength.
Children of today are ignorant by the circumstance and fact of the family meal. But also it enhance the will power and make a kid self sufficient.
Promotes healthy and learning lifestyle
Family meal promotes learning land healthy lifestyle. As when you eat together so it boost and make your lifestyle healthier furthermore, you also learn form your elder as your family is the first learning centre, consequently the things that you only learn from your family no other institute can guide you for that prospect.
Family meal promotes flexibility, When you intend a get together with your family so it make you flexible, because when you re with your family so many times its necessary to ignore something and to get some pace so it makes your flexible and bring a great change in you.
These where some benefits of family meal that why a family should eat together and how a family meal enhances bonding and affection.