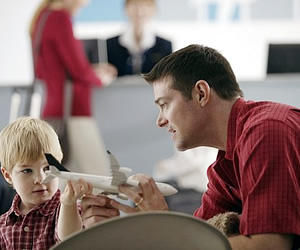 Flying with kids is not an easy task for parents. Here are the tips to enjoy a stress-free journey with your kids.
Traveling with kids is not an easy task for parents, whether the traveling is by car, plane or train or any other. But the most difficult case in traveling is flying with kids, especially when they are too young to get booked seat of the plane and you have to sit with your loving kids on your lap. Imagine when you have to fly with kids for 18 hours and sometime more than this, and then the enjoyment of your travel could be changed in worst situation. Even with the age of 3 to 4 years of the kids give tough time to mom while traveling. So try to make easy and enjoyable travel by handling with cool mind and happy mood as well.
Before flying with kids have a conversation with them. Tell what will be the situation or how to react. Talk to them that what to do and what to not. No doubt kids are naughty but in the mean time they are sensible too. Reward them by saying you expect more good behave in the whole journey.
Another useful tip of flying with kids, must keep a small toys along with your handbag. Try to give them entertainment sources during flight. By this they can spend their time happily without teasing you.
Gadgets are also helpful tools in the flying with kids. A MP3 players, or games in your iPod, electronic book are the favorite entertainments for the kids. And if you are not interested with these then give them coloring books & pencils, puzzle books or jokes book.
While flying with kids keep some snacks with you. Their favorite snacks keep them busy and divides their concentration. The chewing at the take-off time would be the plus point which also helps to keep air pressure easier.
It would be golden plus point if you can get the flight schedule time which match to your kids sleeping time. At least some of the time will cut with their sleep.
So be a smart mom dad, and enjoy flying with kids by using these simple and useful tips.